Before going to travel to Cambodia and photograph Angkor Wat everyone should look the works of American photographer John McDermott. For many years he works in the magnificent complex and captures an otherworldly perspective of the Khmer temples using an infrared films. The images that John captured of quiet temples surrounded by forest and village life are fast receding into history.
An amazing photograph journey
McDermott discovered Siem Reap in 1995 when working for a Bangkok-based magazine. In that year, McDermott visited Angkor Wat for the first time and have to experience a total solar eclipse. Was for him a magical place for a magical event. Inspired by the otherworldly light of the eclipse, he spent several years creating a definitive portrait of the ancient temples and the living Cambodian culture around them. Especially one image was him turning point. As McDermott said later : "This is the picture that started it all for me: the total solar eclipse of October 1995. It was a beautiful, sunny day and there were maybe 1,000 or so people at Angkor Wat. I shot on three or four different types of film that day, and I had one camera loaded with infrared film. I wanted to see how the eclipse – and the different type of light – would affect the film".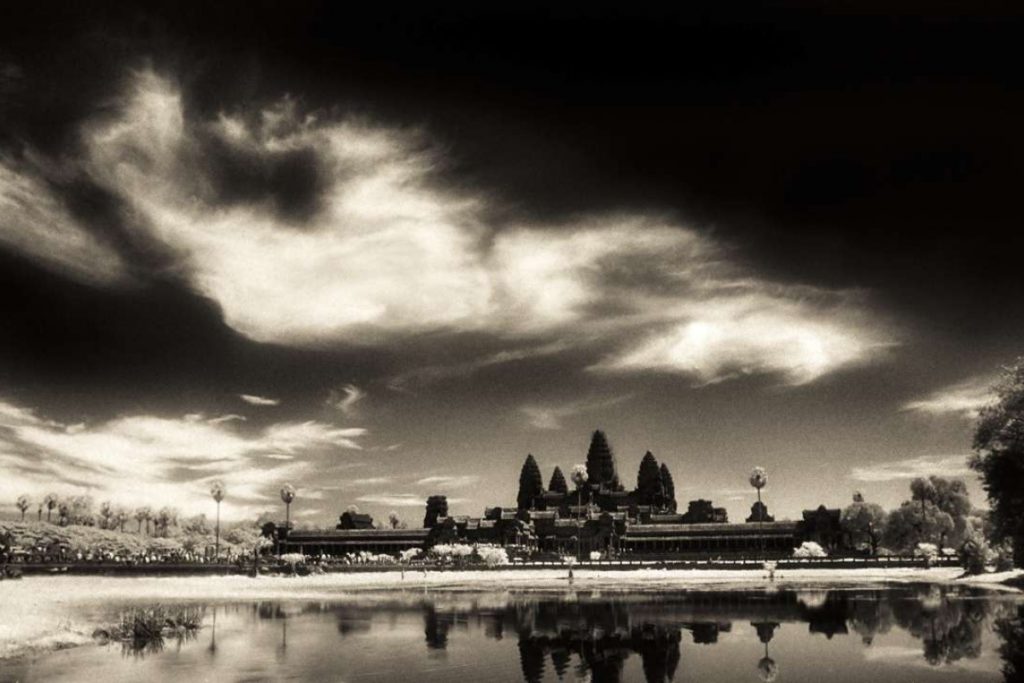 Over the years McDermott flitting back and forth from the United States to shoot Angkor Wat, the Bayon, Ta Prohm and other temples. During this period developing his characteristic style. Before the tourism had really grown, he has a big collection of pictures of the almost untouched complex.
The technique
The photographer of Angkor Wat had been experimenting with specialist film sensitive to infrared light, which is invisible to the human eye. Images captured with infrared film have an ethereal quality. In fact when you looking those images the range of tonality change. For example the leaves on trees appear luminous, skies darken moodily and the orange robes of monks fluoresce tungsten white. Indeed the light sometimes bleeds to give objects supernatural-looking auras. Using the infrared was a great idea in how he can give him incredible touch .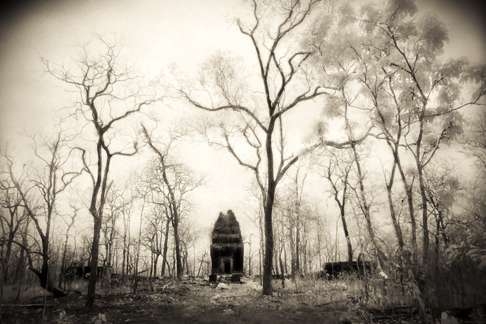 The book
Elegy: Reflections on Angkor is a large hardcover art book, with over 100 photographs that capture McDermott's historic and artistic portrait of the temples. Everybody should have a look or buy this amazing book. In fact, each photographer interesting in capture Angkor Wat has to study the images is has took from the different perspective and angles. Also how he use the light and where he focus is attention. Even from the time he shot there past many years is still worth study is work. Is touch is really magic and in some aspect ethereal.