Photograph Angkor Wat ,the majestic Cambodian Temples that have been a source of mystery and inspiration for many photographers.
Study the map and make an itinerary
There are around 50 temples inside the Angkor Wat complex and some of them are not in perfect condition. Meanwhile you don't need to capture others because have kind of a similar design. Like the other vast complex in Asia Bagan, is better decide which temples you want shoot and when. So take a map of this huge archeological park and decide your itinerary. In doing that you have to consider the light, time of visit each one and distance between them. Also remember that there are many tourist to avoid. More time you have and more better result you will obtain, at least i advice to stay 3 days.
The Equipment for the day
From the preparation to the actual day of photograph Angkor Wat below i made my list of gear
The camera
Lenses. A wide angle is a must in the temples, at least a 24mm.
Off-camera flash.
A wireless camera tether.
Backups of everything — especially batteries and memory cards.
Better monopod instead of tripod.
Before going to the complex be sure to clean your lenses, so your shots aren't ruined by specs of dust or dirt. Indeed bring along extra memory cards, especially when the event will last a long time.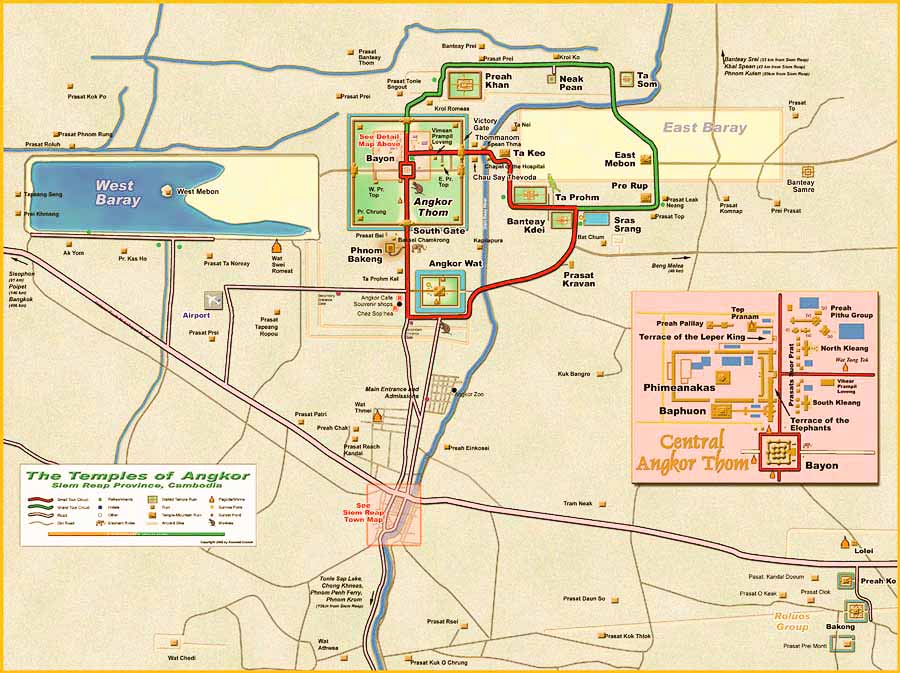 Transport
There are several ways to moving while you photograph Angkor Wat. Indeed the tuk-tuk is the most popular transportation. Tuk tuk are touting for temple business so don't worry, there's no shortage of vehicles waiting to take visitors to the temples. A tuk-tuk costs about $30 and I advice to speak directly with the driver about itinerary. Alternatively, rent an electric bike, are slowly but you are independent. Or finally jump in bicycle for 1$ but can be tired and take energy for you to photograph Angkor Wat.
Tickets
I advice to stay for several days to photograph and explore more temples. So the best value in that case is the 7-day pass at USD 72 which will allow you entry to the park 7 times for a period of 30 days. The worst deal is the one-day pass at USD37 , especially if you plan to visit the temples only half a day. At least get 3 day pass Anyway for more information look this website.
Learn from the master
Each photographer interesting in capture Angkor Wat has to study the images of John Mcdermott. His book "Elegy: Reflections on Angkor" is a large hardcover art book, with over 100 photographs that capture McDermott's historic and artistic portrait of the temples. Everybody has to study the images is has took from the different perspective and angles. Also how he use the light and where he focus is attention. Even from the time he shot there past many years is still worth study is work. Is touch is really magic and in some aspect ethereal.
Location
Angkor Wat
Angkor Wat is undoubtedly the most famous of complex . The colossal temple is the world's largest religious monument, an impressive accolade. It is dotted with gorgeous balustrades, galleries, chambers, courtyards, corridors, and porches. Every area has elaborate carvings on the walls, representing mythological tales. Angkor Wat was originally built as Hindu Temple.
Everybody want to photograph Angkor Wat at the sunset. Indeed it is as spectacular as it looks, but is crowdly and you will find more camera then humans. So is better wake up early to get better view and stay at least one hour before, no kidding. However the temple offer a lot more to capture then a panoramic sunset view. Above all there are all the marvelous details and statues that describe the history and culture of thee ancient time. You will get lost and if you going after the sunrise the light can be soft. Take your time , don't rushing capture some architecture picture using the lines of the structure. Even in the busiest temples like Angkor Wat you can escape the crowd by sauntering through smaller corridors. Here you will often find hidden treasures that most tourist wouldn't find.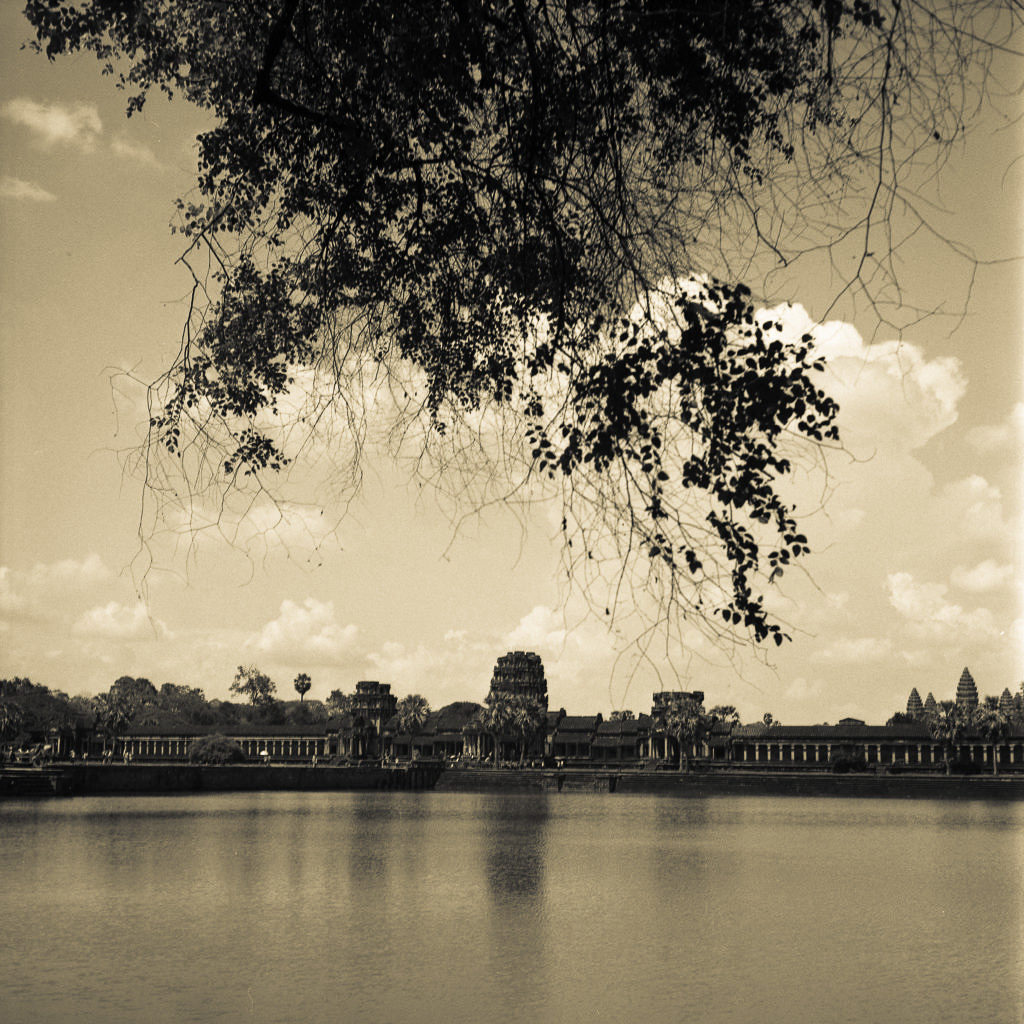 Angkor Thom
The second most famous sight in the complex, Angkor Thom, is not just another Khmer temple. Angkor Thom is a whole city with its own sanctuaries, gates, terraces, streets, and everything! It was the last great capital city of the Khmer Empire, and it's absolutely glorious.
Bayon
If there is only one thing to see in Angkor Thom, it's the main city temple, Bayon. Decorated with 54 gigantic smiling faces, the temple is one of the most enchanting places on the planet.. The best time for photography is at sunset for two reason. Usually is empty because the tourist visit at the morning or the noon. The second one is the light because the golden hour give an amazing tone at the rocks. On the bridge right after exiting the gate of Angkor Thom, the canal caught my eye.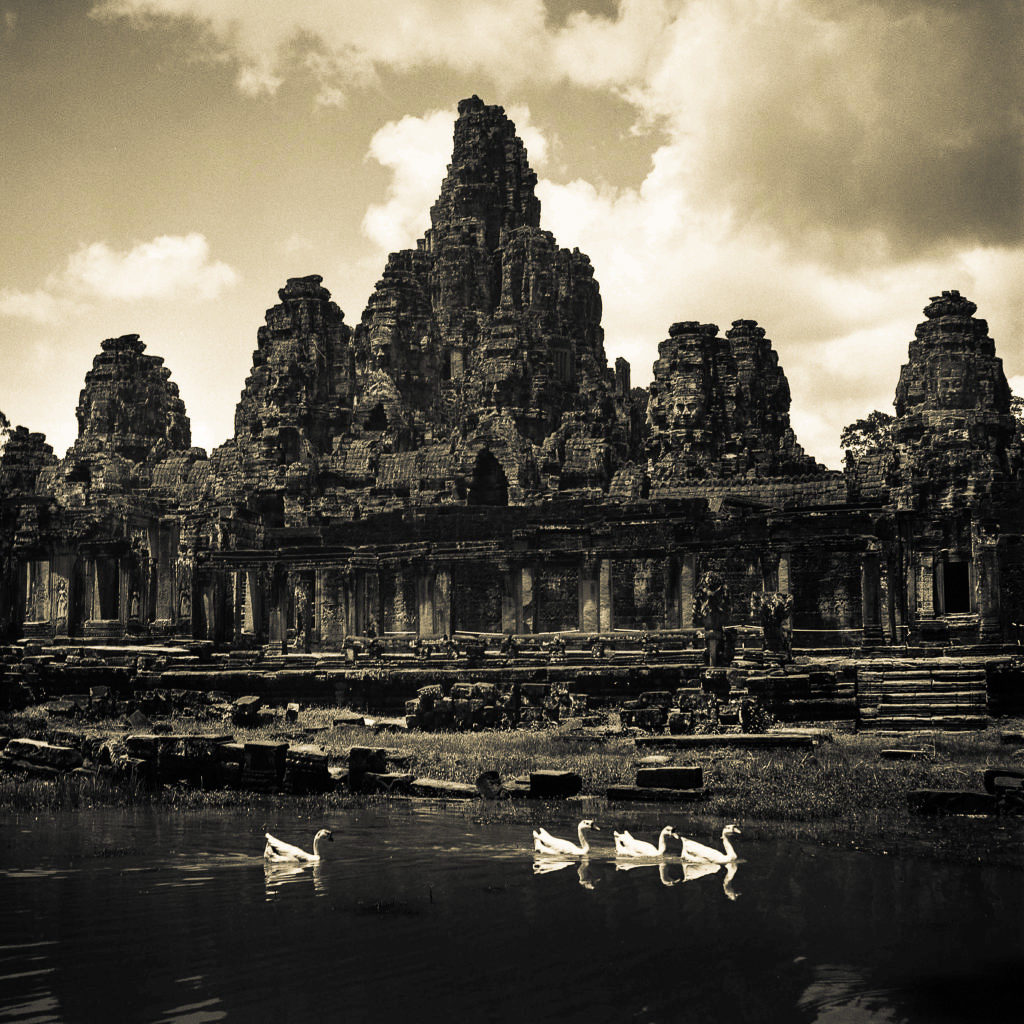 Ta Prohm
Ta Prohm, was abandoned (around the 15th century) and the jungle quickly consumed the temple. The Silk-cotton and Strangler fig trees made the ruins their new home, creating an incredibly picturesque blend between nature and mankind. The magic is the conquest of nature with trees overtake, hug and cover the walls, towers and doors, slowly swallowing everything back. Usually is overcast and since what once used to be a temple is now surrounded by trees, it was quite shady. Is classic take a picture at the most photographed tree in Ta Prohm right, but has ever is charming. Can you avoid the queue in the picture moving back and zoomed in a bit on the top part. Meanwhile if you wander around can you capture multiple overgrown building-hugging trees.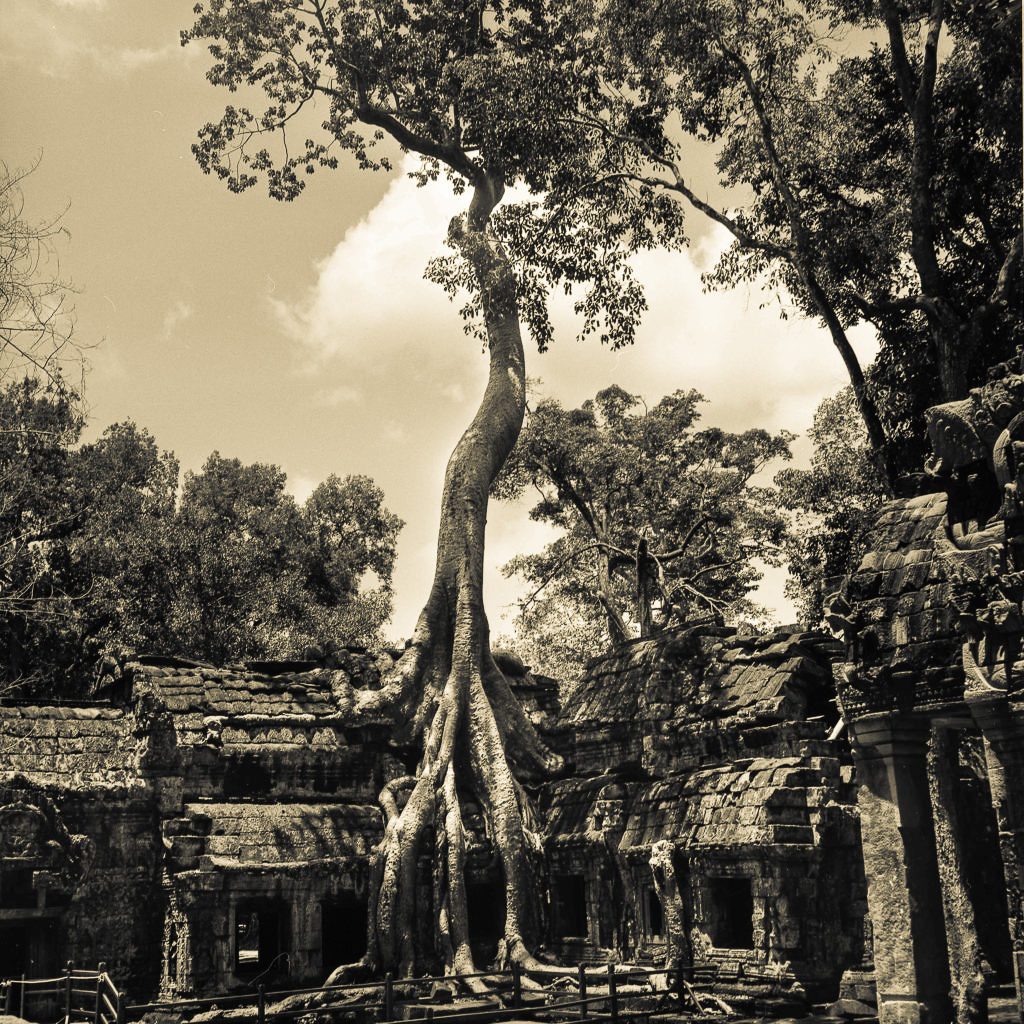 Preah Khan
A vast temple that used to be home to 100,000 people, Preah Khan is one of the most underrated highlights in the complex. It is slowly covered, hugged by nature with big trees sprouting from the most unusual places across doorways or over the roofs.
The temple is divided into four enclosures, and all of them are full of beautiful bas-relief carvings. To get there, you need to pass through one of the famous moat bridges that represent a battle between Garudas and the King of Nagas.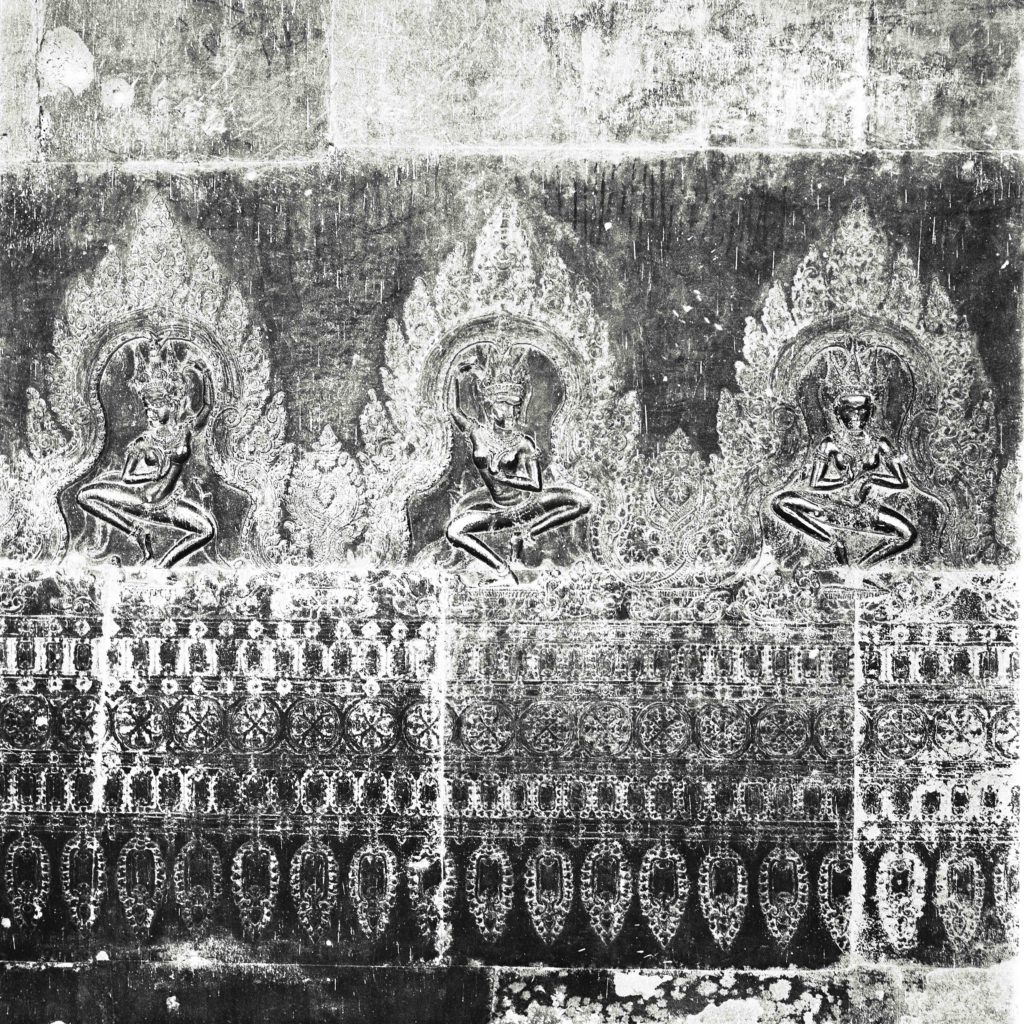 Neak Poan
Neak Poan desert a visit because is bit different and allow to extend your portfolio. Rather than a temple, you find a monument in the centre of what seems to be a pool. Is nice photograph the long wooden corridor over mush that leads to this small temple.
Ta Som
Ta Som just as Ta Prohm is covered by trees and can be an alternative when there are many tourist. The magnificent entrance alone is enough to make your heart skip a beat. Ta Som has an iconic place, the tree archway, a multi-branched tree covering almost symmetrically a doorway of the temple. For different capture get deeper into the temple where you will discover untouched corners left to nature, secret crevices, and amazing roots.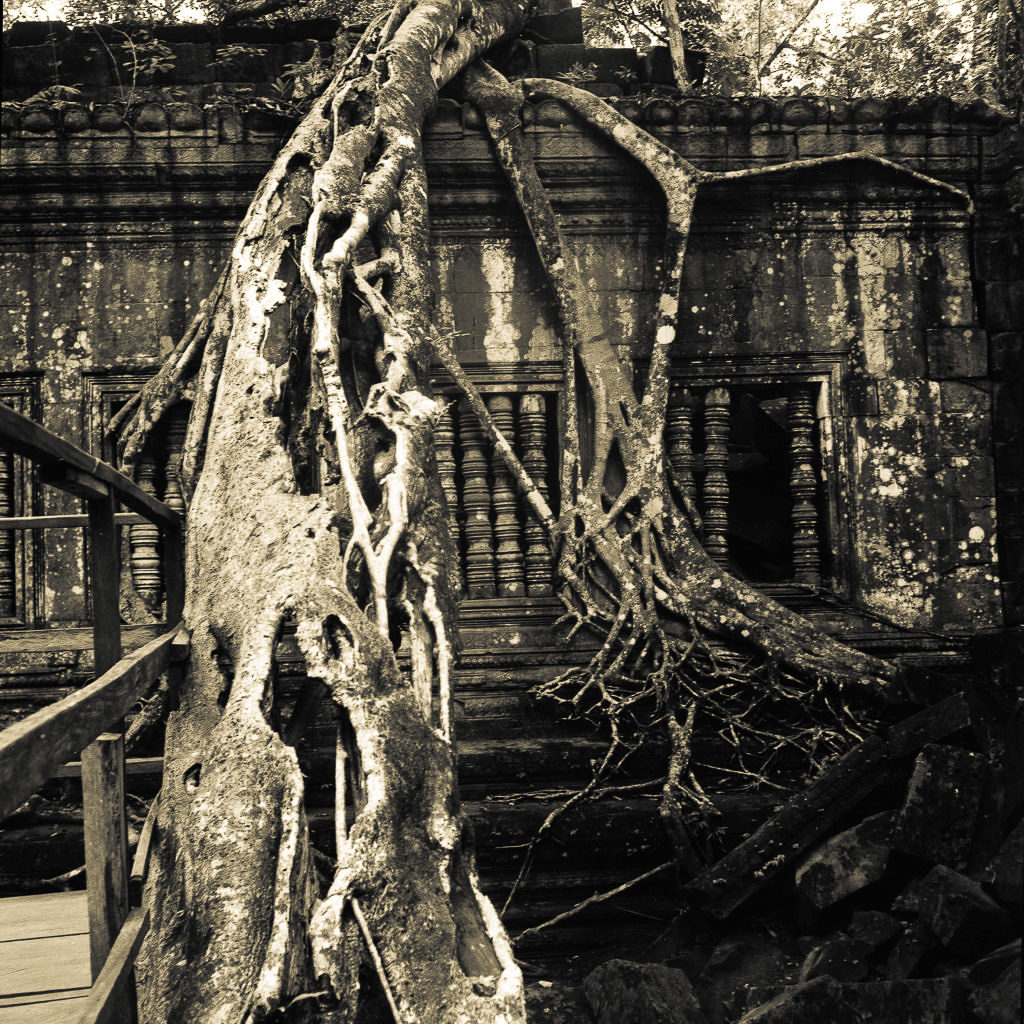 Other temples
In addition to the temples described above, there are other noteworthy ones. If you have more time you can visit them and you will surely make excellent photographic shots. For example Baphuon, a mountain temple. It develops in height, and going up to the various levels the view on the surrounding area becomes more and more beautiful. Then there are other more far away like Banteay Srei. It is about 35 km from the main area of Angkor, but don't be put off by the distance. Absolutely not to be missed! That temple has a characteristic that distinguishes it from all other temples: the decorations. They are so beautiful and accurate that left speechless. Built in red sandstone, it is a true jewel of Khmer art. So I just talk about two but there are many more to explore in Cambodia.
Getting there
You can land directly at Siem Reap International Airport from certain International airports, and also some major nearby-towns. You can also ride a cross-border bus to enter Cambodia from Laos, Thailand or Vietnam; then heading towards Siem Reap bus station.
My best advice
The visit and Photograph Angkor Wat is tiring. In addition to the fact that you walk all day, if you travel in the summer the weather is hot and very humid, which makes everything much more exhausting. Running from one end of the site to the other to capture many things in a short time is not a good idea. Better to spend an extra day in Siem Reap and turn around calmly, even just to stop and observe the details, hidden in the middle of nature or in the elaborate bas-reliefs that adorn the temples.
Sustainable Photography in Angkor Wat
Sustainable photography should be truly important to a responsible traveler. In this regard we have to try to do my small part. A sustainable model of photographic culture is absolutely necessary right now. So, in the way we pay attention to these things in our daily life, it is possible to include those passages in our photographic activities. For example, start using reusable tools whenever possible. In Cambodia you will see a lot of plastic bottles.