Edward Burtynsky
Edward Burtynsky is a Canadian photographer and artist. He is internationally recognized for his large-format photographs of industrial and environment landscapes. Even he is not well known in Europe, his conceptual rigor has made him one of the most appreciated photographers at the present time on the American scene. His work falls within the American tradition of landscape photography, which attempts to capture the grandeur of natural settings, while declining at the hands of man. All is work has a strong focus in ethical issues, like his last big project Anthropocene.
Bio of Edward Burtynsky
Edward Burtynsky is a son of Ukrainians immigrants who came to Canada in 1951, where her father found work at a General Motors factory. He was born February 1955 in Saint Catharines, Ontario. At the age of 11, his father bought a dark room, with cameras and instruction manuals. Together with his father, he learned how to make black and white photographic prints and with his older sister they set up a small portrait photography business in the local Ukrainian center. In the early 1970s, he found work at a printing press and began taking photography and graphic arts classes, later enrolling at the Ryerson Polytechnic Institute.
Works
In the last two decades , Burtynsky has developed his work all around the world with big projects. His most famous photographs are great views of landscapes altered by the humans. So often there are industries like mines, quarries, landfills. Indeed the stunning beauty of his images is often in conflict with the endangered scenarios they display.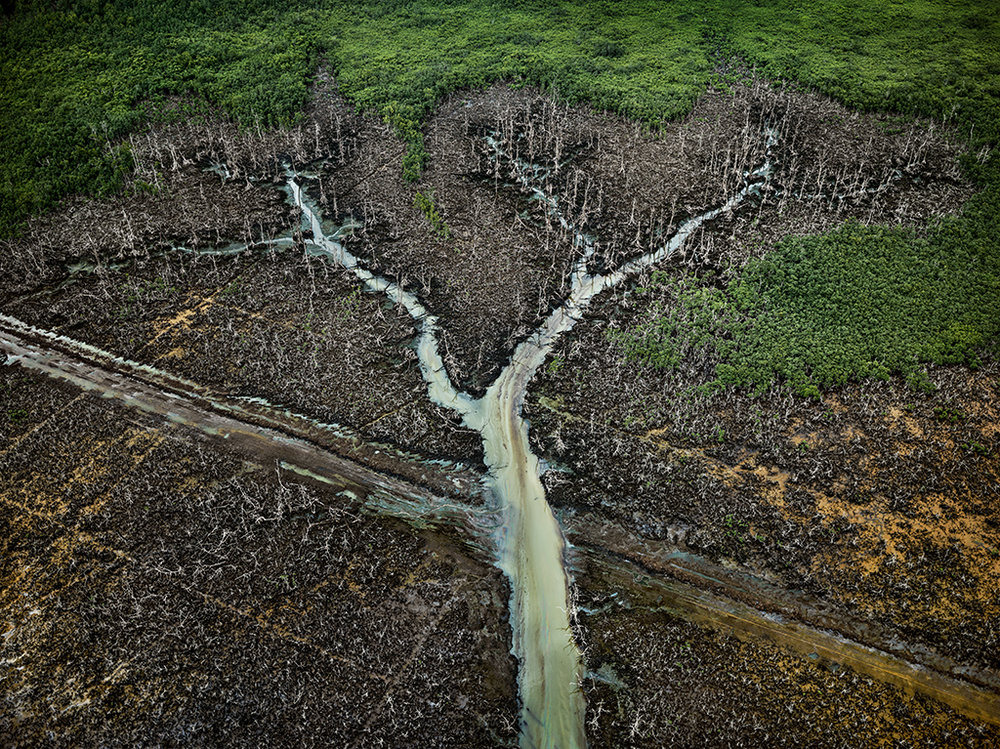 His influences include Ansel Adams, Edward Weston, Eadward Muybridge, and Carleton Watkins. Also another group that he shares similar photographic approaches is the New Topographics. The bulk of his work has been done with a large format camera with 4 × 5 "plates. He often manages to position himself high above the landscape. In fact, he use elevated platforms, climb mountains if possible, and even by helicopter above the sea. Recently, he use a digital camera and drones to take some of his photographs.
His photographs are included in the collections of the 15 best museums in the world. You can see him work such at Museum of Modern Art and The Guggenheim Museum in New York, the National Gallery of Canada, the Biblioteque National in Paris, the Reina Sofía in Madrid.
The anthropocene project
The last big project is multidisciplinary work that involve fine art photography, film, virtual reality, augmented reality, and scientific research, He investigate human influence on the state, dynamic, and future of the Earth. Him argument is that humans have become the single most defining force on the planet. Sure a body of work that inspire.