How Photograph Algarve in southern Portugal, a really nice area to photograph the sea and coastline.Some of the view in different location are so breathtakingly beautiful that you could spend days. I write some information and tips about this Portugal famous region.
Introduction to photograph Algarve
The inviting coast of the Algarve region of southern Portugal is mostly photographed for its breathtaking cliffs, the golden beaches, rugged bays and sandy islands. However, there is an enchanting hinterland to immortalize, crossed by the splendid Via Algarviana. This area seduces the photographer with pretty historic villages, castles, hills covered with flowers, almond, orange, olive and cork oak groves, and with the extraordinary variety of birdlife.
Location to photograph Algarve
Faro
Can we start exploring the area since its capital of the Algarve has a typically Portuguese atmosphere, to a greater extent than most other tourist cities. The city is rather underestimated by photographers, who limit themselves to passing through it, but it is instead worth doing here a pleasant stop. There is a beautiful marina to photograph and above all, beautifully preserved medieval quarters, home to interesting museums and churches. But surely the location not to be missed are the lagoons of the Ria Formosa Natural Park and the nearby beaches, including those of Ilha de Faro to the south-west and Ilha da Barreta to the south.
---
---
Albufeira
This is the most characteristic area of the Algarve, the most fascinating and to be photographed are above all its beaches, coves, overhanging cliffs and caves. Take advantage of the golden hour and blue hour to capture the shades of the wonderful colors during these moments.
Lagos
Lago rises along the banks of the Rio Bensafrim and its 16th century walls surround a beautiful old city, with paved alleys, churches and suggestive squares. The new, modern but not too unpleasant part extends all around. Anyway, the most interesting part to photograph are the wonderful beaches characterized by stacks, inlets and rocks overlooking the ocean. This my best location to photograph in Algarve. The beach at Ponta de Piedade can be alone worth the trip!
Off the path: Lisbon
Once you are finish to photograph Algarve maybe you have some time to spend around and don't waste the opportunity to capture Lisbon. Indeed when comes to photography, Lisbon is a place like no other. From the beautiful tile roofs of the historic district to the monuments and bridges of the riverside, it is full of opportunities for a fantastic image. Maybe you start the morning in Aflama district and Miradouro de Santa Luzia.After you can spend your time photograph the Sao Jorge Castle and finish the day at Elevador de Santa Justa and Carma Convent, similar architecture without ceiling like San Gargano in Tuscany.
Photograph with me Algarve
Be prepare to Photograph Algarve
Before arrive to photography in Algarve get sure to be prepare. It's not a big area but there are a lot of thinks to do and capture. Indeed are not easy choice to dealing with, especially if you are first timer. So find your subjects to shoot is really fundamental and then decide how do it. Usually my first step to be prepare is to look a map of the area and choose what coming first. Also search for landscape to capture and what time I have the best light to do it. Then try to read something about history and culture and costumes. Meanwhile search for works made in this region by greater photographers. Indeed from them you will be learning a lot of things. Take notes and made a checklist.
The Right Gear to Photograph Algarve
A camera. It doesn't matter if your camera is a full-frame or APSC if you understand how to use it.
A wide-angle lens. Useful in Architecture and in the tiny street in old. Also would be useful for some landscapes scene to fit everything into the frame.
A versatile travel zoom, such as 24-105mm or similar. This will come in handy when you need to zoom in town. I don't suggest a dedicated telephoto, but having something with more reach will definitely help.
A tripod Must have for landscape picture and night photography.
(Optional) a polarizing filter. A polarizing filter can occasionally be useful, so if you have one, there is no reason not to bring it. But I wouldn't list it as a hard requirement.
(Optional) a drone. If you have a drone, Algarve is an amazing area to fly it. Anyway are many rules to do it and you have to be careful. In the East years you have to follow European recommendation to do it. Generally you can use just only outside if the city, in the old town you need special permit.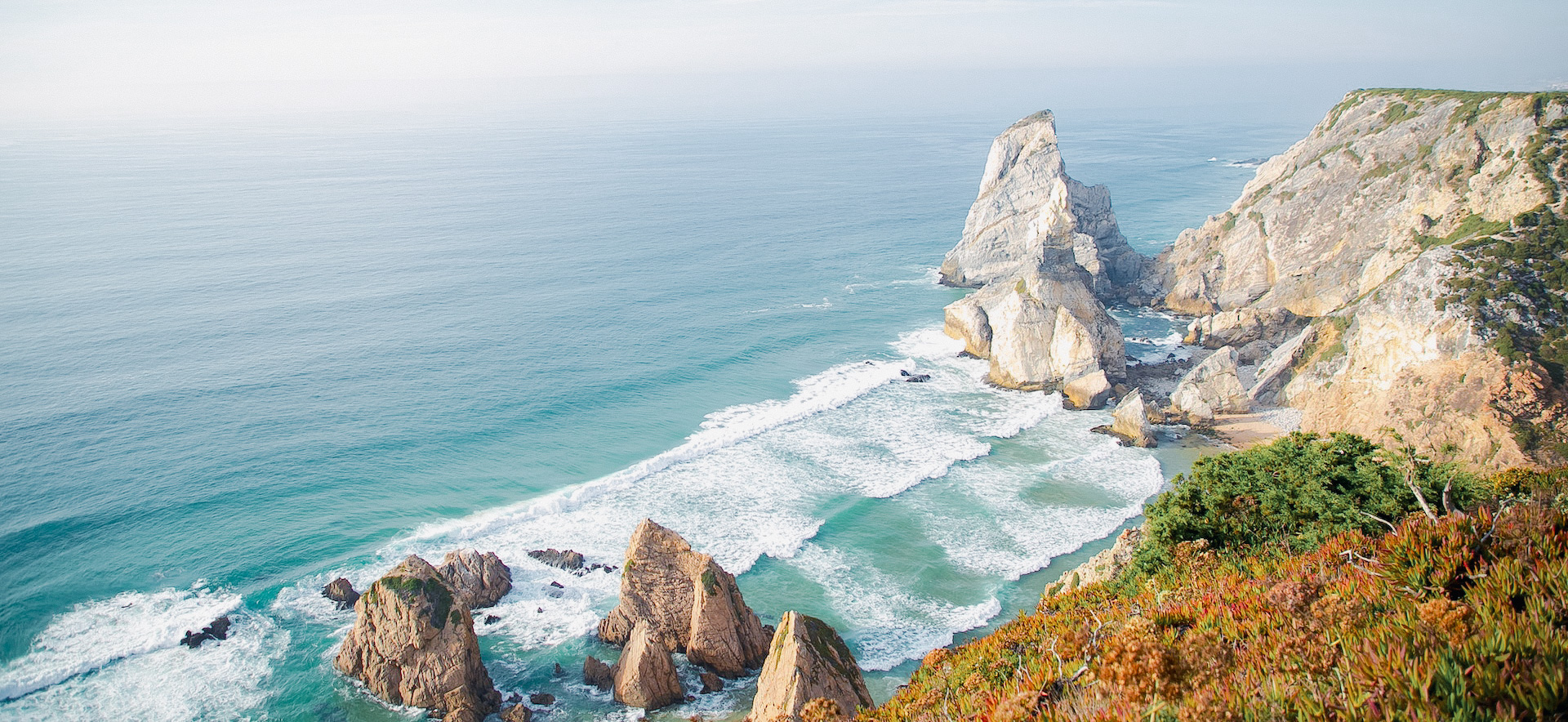 Useful information and Tips to photograph Algarve
Climate:
Mediterranean, but more ventilated and influenced by the Atlantic Ocean. Sunny and breezy summer, mild and rainy winters. Cool sea temperature, in August and September 21°, in July and October 20°, in June 19°. The temperature is really pleasant all year long like any other country like Italy and Spain
How reach there
The Algarve is the southernmost region of mainland Portugal, not counting the islands. It borders to the north with the Portuguese region of Alentejo, while to the east with Andalusia, a Spanish region. On the southern and western side it is instead bathed by the Atlantic Ocean. So by plane you can land in Faro but few company arrive there. Most easily arrive in Lisbon .From here you can arrive by train on the Lisbon-Oriente line (3 hours 40 minutes, standard ticket from €22.00). You can save money on the ticket by purchasing it online at least 5 days in advance on the official website. By car it is about 308 km from Lisbon, about 2 hours and 30 minutes.
Be Responsible
So when you going to photograph Algarve respect the environment and stay away from problems. Usually the most strictly places are the church and the religious site. For having more information on responsible travel photography check my other post.
Travel Insurance to Photograph Algarve
Getting a really good insurance. Like any destination, traveling with proper travel insurance is a must. Take care of yourself in Portugal.
My Photography Workshop