Photograph Murano and Burano it is a great option in your journey in Venice. A trip to this city isn't complete without discovering the Venetian Lagoon's two most cherished islands. So you can doing a day trip to Murano from Venice with Burano. Capture some images on the ageless arts of glassblowing and lacemaking and the mastery of artisans, as well as photograph in the unique charm of the tranquil canals and piazzas of these vibrant islets.
Burano
Burano it is a perfect location to any photographer attracted by colors and contrast. Indeed this tiny village is one of the most colorful places in the world. A small fishing community with its brightly colored houses also has some of the finest handmade lace anywhere. Here you can discover. and capture this cultural tradition in action as women stitch by hand, like countless generations before them. Walking here with your camera is charming pleasure and strolling Burano's vibrant waterways while you photograph it is a great experience that you don't want missed .The main building to shot is the leaning tower and if you want walking go to the small connected island Mazzorbo.
---
---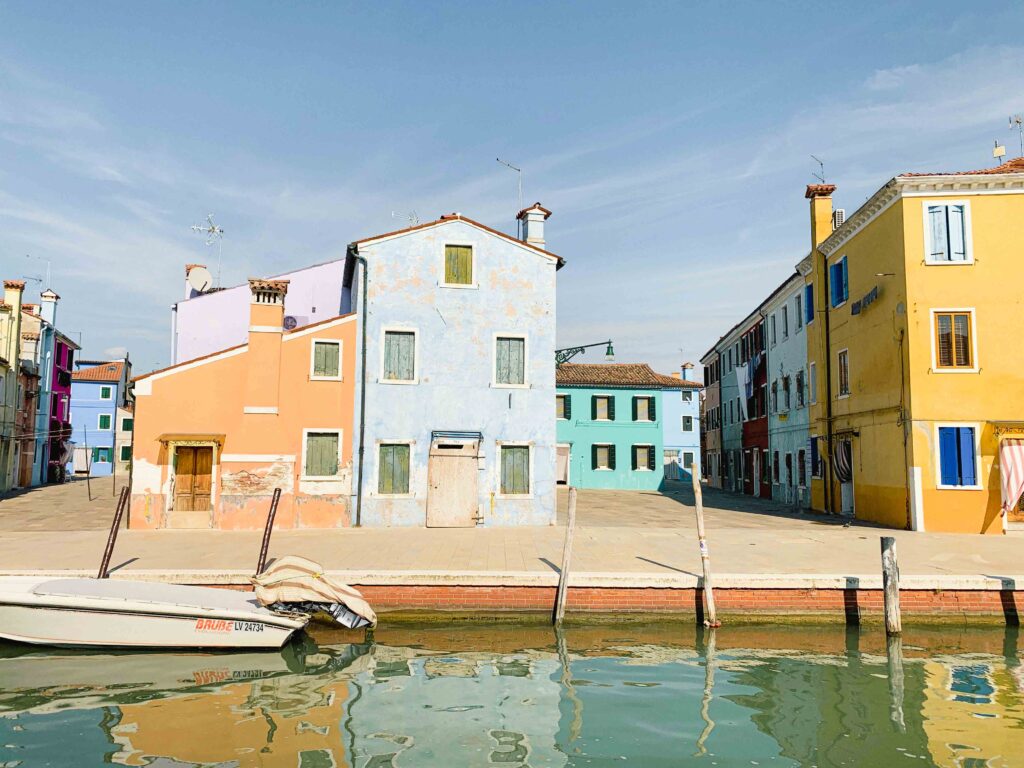 Murano
In the same day you can visit and photograph Murano, a small compact island. Actually it is an archipelago, made up of seven small islands set close together and linked by bridges. Murano is world-renowned for its glassware and you can capture one the many glass factories in the small town. Also is worth a visit in the museum of glass.
When Photograph Murano and Burano
Venice's best travel months to photograph are April, May, June, September, and October. Anyway also it is the busiest time of the year and most expensive time to photograph.In Summer in Venice use to be more temperate like but recent years can be hot. For me in this period is perfect for night time shooting . Between November and March you can usually expect mild winter weather, occasional flooding, shorter lines, lower prices, and fewer tourists. In this season can be a great time to met unique condition like fog or the phenomen Acqua Alta, the high water in town.
Tips and Info to Photograph Murano and Burano
Transport to Photograph Murano and Burano
There are several ways to moving while you photograph Venice Lagoon. Indeed the best way is walking in the city is the best. From one island to the other one there are public boat. In alternative you can have a ride with Gondola, really charming but expensive. The best way to arrive in the city is with the train. From the main railway station you can start your visit.
Learn from the master
Many photographers have immortalized Venice, as it is one of the most photogenic cities in the world. There is a photo to take after every corner. But in order to make the most of your photographic days, try to see the works of great photographers. So look carefully at the photographs of some masters such as Michael Kenna, Gianni Berengo Gardin etc. It will be very useful believe me.
My best advice to Photograph Murano and Burano
The visit and Photograph Venice is tiring. In addition to the fact that you walk all day, if you travel in the summer the weather is hot and very humid, which makes everything much more exhausting. Running from one end of the site to the other to capture many things in a short time is not a good idea. Better to spend an extra day in Venice and turn around calmly, even just to stop and observe the details, hidden in the middle of nature or in the elaborate bas-reliefs that adorn the temples. Try to start your journey early and avoid the tourist. Photograph Venice in the night is a must, you should do it. Finally enjoy while photograph Venice, should be a pleasure and amazing experience do that.
Be prepare to photograph Murano and Burano
The Equipment to photograph Murano and Burano
From the preparation to the actual day of photograph Murano and Burano below i made my list of gear
The camera
Lenses. A wide angle is a must in the temples, at least a 24mm.
Off-camera flash.
A wireless camera tether.
Backups of everything — especially batteries and memory cards.
Better monopod instead of tripod, in Venice are not allowed and you need permit.
Before going to the complex be sure to clean your lenses, so your shots aren't ruined by specs of dust or dirt. Indeed bring along extra memory cards, especially when the event will last a long time.
Sustainable Photograph Murano and Burano
Sustainable photography should be truly important to a responsible traveler. In this regard we have to try to do my small part. A sustainable model of photographic culture is absolutely necessary right now. So, in the way we pay attention to these things in our daily life, it is possible to include those passages in our photographic activities. For example, start using reusable tools whenever possible.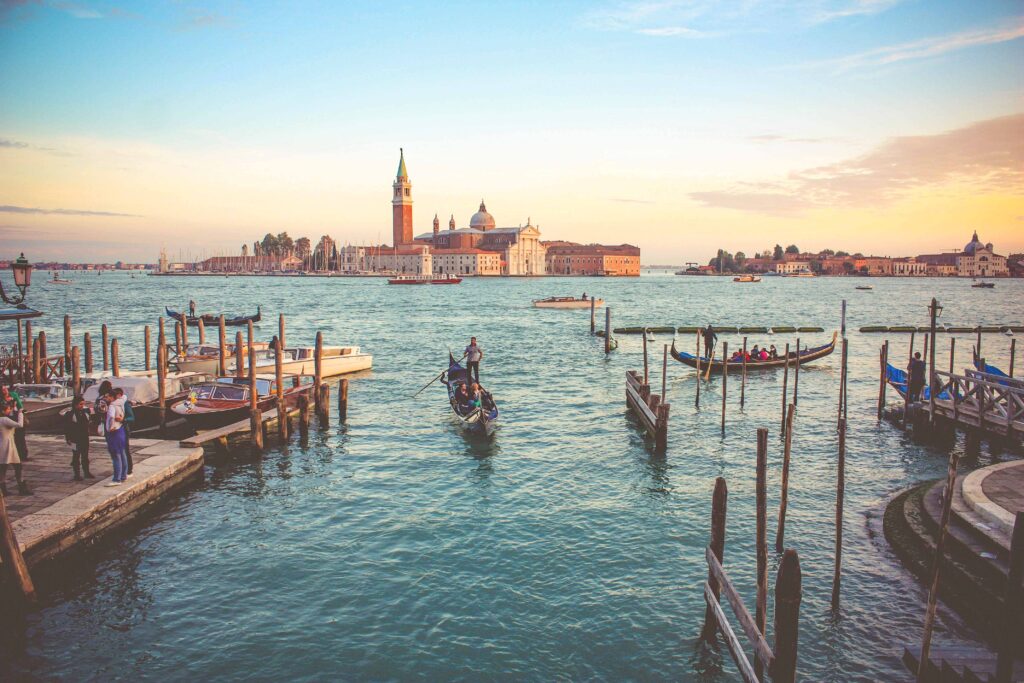 Getting the island from Venice:
Visiting and photograph Burano and Murano from Venice is very easy. The Two island are connected to Venice by regular ferries. In fact, they depart from Fondamenta Nuove, in Cannaregio, and bring you to Burano in about 40 minutes. Don't get worry to buy ferry tickets because are sold at the ferry stop and can be bough on the day. To visit the two island is easy the ferry to Burano include a stop in Murano, the intermediate ferry stop between Venice and Burano, you can also opt for a day trip.
How do I get to Venice?
Arriving by train
The best way to reach the city. The train station Venice Santa Lucia is located close to the town centre. Depending on where your hotel is located, you can either walk there or take a Vaporetto. There are good train connections from some cities. like Milan, Rome and Florence to Venice. For example, there are night trains that go between Vienna and Venice, which take around 9 hours.
Arriving by car
Venice is located in northern Italy, more precisely on the east coast of the Venice region.
It is a lagoon city and connected to the mainland via a bridge. Although: shortly after crossing you have to park your car and get into a Vaporetto, local water bus! Therefore, Venice is a car free city. It is absolutely impossible to drive a car there.
There are several parking garages on offer. The price is around 22 euros for one day (24 hours).Other option is left the car in Venezia Mestre, parking at train station there an took a 10 minutes train from there, it is more cheap way.
Arriving by plane
You can also get to Venice by plane. There are two airports: The central airport Venezia-"Marco Polo" and the airport located approximately 25 kilometres north of Venice, Treviso airport, which is the primary airport for low-cost airlines. From the Marco Polo airport you can take the bus to Piazzale Roma, a bus station right on the doorstep of Venice's Old Town. Finally, from there you can then walk or take a Vaporetto further to your hotel.
Usefull Information in Photograph Venice:
Language
The main language spoken in Venice is Italian. During the last few years the use of the English language has become more and more widespread. Also thanks to tourism in Venice, you will find shops and restaurateurs who speak at least basic English. The hotel staff generally speak fluent English. However, don't expect to be understood everywhere.
Money / currency
The currency in Italy is the Euro (€). Large shops, restaurants, and hotels will accept credit and debit cards, but in general they prefer cash.
Wi-Fi / Internet coverage when to Photograph Murano and Burano
Cell phone coverage is good practically everywhere in Venice, but still slow in some areas. In the cities there are no problems and the service is fast enough, however in the countryside the network leaves something to be desired. The costs of SIM card are affordable and you can find them in many shops.
OTHER TOUR AVAILABLE