A photography Varanasi guide for everyone who want to shooting in the holy city and having an amazing journey
The Holy Benares
Varanasi is a sacred city with a very old history. Indeed, a dream for many photographer. Also for me it is one of my favorite location in India. Known as the city of Lord Shiva, the god of creation and destruction, it's believed that anyone who dies in Varanasi will be liberated from the cycle of reincarnation. So each day many hindu pilgrims coming at the Ganga River and wash themselves to clean away all sins.
Varanasi was originally called Kashi during Vedic times. It was officially named Varanasi in 1956, although it was known as Benaras before that. The name is derived from the meeting of the Varuna and Assi sacred rivers.
The fascinating thing about this mystical city is that its rituals are revealed openly to along the many riverside ghats, which are used for everything from bathing to burning the bodies of the dead. So this is a place that will really overwhelm your senses, and not always in a good way. Therefore better to be ready for it!!
Planning photography Varanasi
Best Time to Visit
From October to March is the best period to photography Varanasi. This is when the weather is at its coolest. Usually winters are refreshing and pleasant, albeit chilly at night. The temperature gets uncomfortably hot from April onward, easily reaching 35 degrees.
Be prepare photography Varanasi
You need to preparing in advance your photographic trip to Benares. Indeed the city can be dirty, chaotic,intoxicating, crazy, exasperating, wonderful, squalid, beautiful, overwhelming, and fantastic. Is important to see previous works of the others photographers, know the culture and hindu religion. So get all the information you can get because there can be helpful. I give some advice here to prepare your photography trip.
Where stay
Ideally, stay in a hotel near the Ganges River so you are near to the action, the gaths and the old town. However, do be aware that most of these hotels are only accessible on foot. So try to have light bags with you. The most new and high value hotel stay in the other part of the town. if you stay there, each day you have to spend on hour to reach the river.
Getting here
I like travel to Varanasi by train who run overnight. It takes a minimum of eight hours from Kolkata, 10 to 12 hours from Delhi. The main railway station in Varanasi is called Varanasi Junction or Varanasi Cantt. Also the city has an airport and is connected by direct flight from major cities in India including Delhi, Kolkata, Mumbai, Lucknow, and Khajuraho. Instead don't take the bus, the services to Varanasi tend to be very slow and uncomfortable. So avoid unless you're on a super strict budget.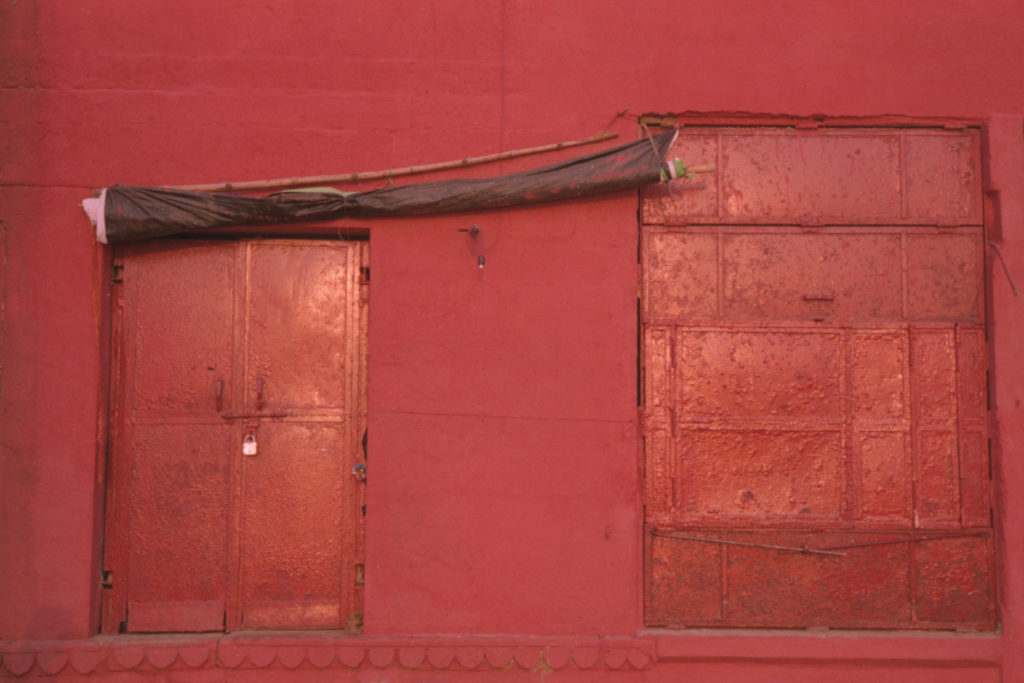 Location photography Varanasi
For starting your journey one of the best things to do is to simply soak up the atmosphere and observe what's going on. Start going in the street and get used your eyes to this incredible atmosphere. So walking towards the river and going to the most interesting part of the city is its gaths. You will step leading down to the river where the life seems to be stop. Take a walk beside the river and watch life flow by. Here take a deep breath and try to don't shoot too much, just the essentials. The photography in Varanasi can be so intense.
Another unique experience is a boat trip along the river at sunrise or dusk. Maybe It's worth going twice, at both times, because the atmosphere is different and you'll see different things. I suggest you to stop to the other banks of the Ganga where you will find an interesting scene, a different persecutive to photography Varanasi.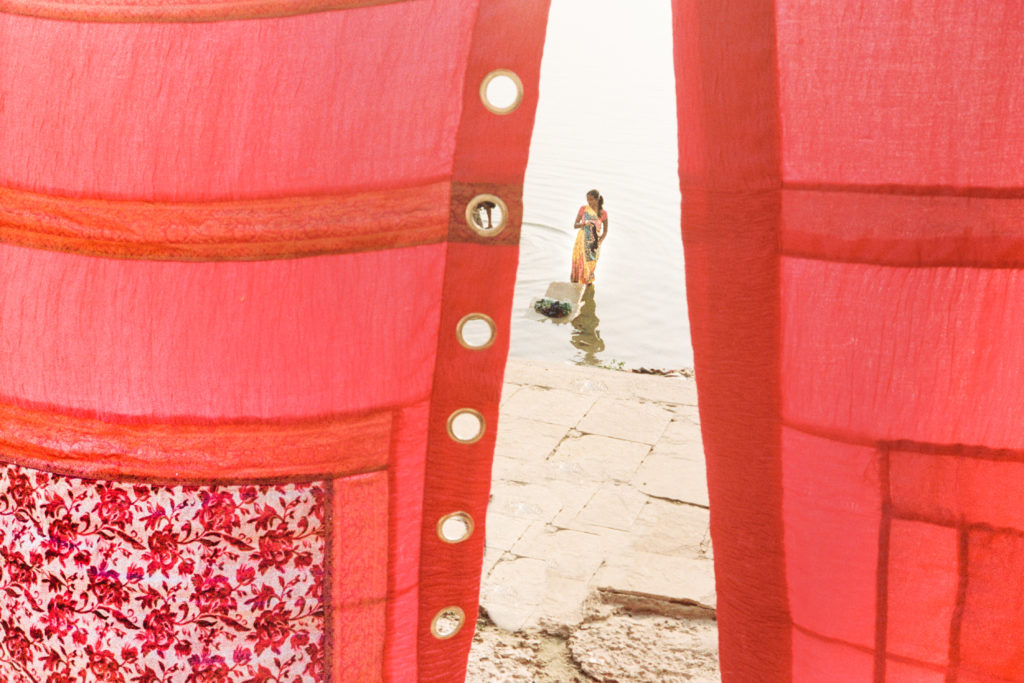 Every evening take place the prayer ceremony at Dasaswamedh Ghat. So You can choose be part of the audience or watch it from the river.In both cases you will be art of this ceremony with other tourist and many hindu. There's also an early morning sunrise Ganga Aarti at Assi Ghat. Is different, It's not as formal and you will have daily light.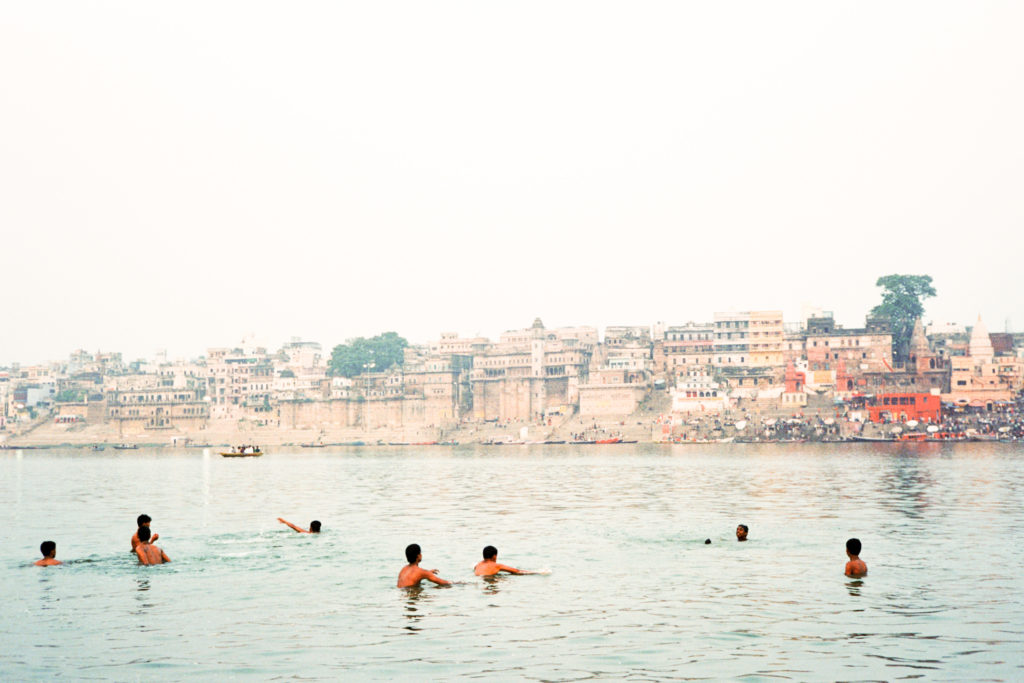 The ceremony Ganga Aarti
The Ganga Aarti Ceremony held every evening at the Dasashwamedh Ghat at Varanasi is one of the most spectacular religious or devotional rituals carried out in the world. It takes place in a choreographed way as priests stand clockwise in front of the River Ganges to offer the Aarti. The religious ceremony is held close to one of the most famous temples for pilgrims in India, Kashi Vishwanath Temple. Going to photograph the whole aarti is a visual treat. So don't lost an opportunity to capture this amazing hindu ceremony and all the vibrant rite.
Festival and Events to photography Varanasi
The biggest festival of the year in Varanasi is Dev Deepavali or Dev Diwali. This festival happens 15 days later of the Diwali, on Kartik Purnima , usually come in October or November. The tradition say that the gods are believed to come to earth to bathe in the Ganges River on this day. So for this reason the ghats are decorated with rows and rows of lamps.
Other important occasions to photography Varanasi are both Maha Shivratri and Buddha Purnima , the Buddha's birthday. Especially the Maha Shivratri can be very interesting for photographers who like portraiting because many sects of sadhus come in the city to celebrate the great festival of Lord Shiva.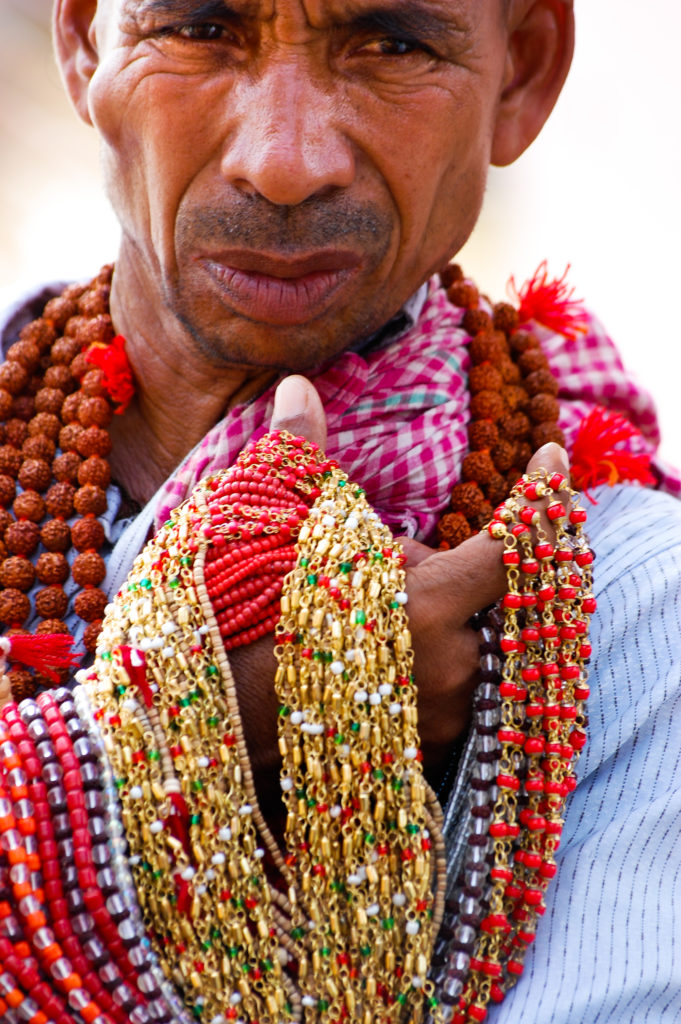 Ethical photography
Remember when you photograhy Varanasi that this city is sacred and you need to respect the pilgrims and their culture and customs. So when taking pictures, do be discrete and considerate of people who are performing rituals. Especially avoid photographing the cremation ghats. Is important to have responsible travel behavior.
Pratical Tips
Wake up early. Get up just before dawn to see Varanasi come to life around you.
Take a boat ride at dawn or sunset. In addition to being a good source of photos, it is a relaxing start to the day and a nice way to see Varanasi.
You will have a lot of touts along the ghats. The classic is the offer of a boat ride. Be firm and polite. One of the best answer is "I've already been on a boat ride today".
Beware of food (look Below
The cow Right Away. In India cows are considered sacred, so it is best to treat them with respect. Is one of the many surreal experiences of Varanasi is walking along a small alley and having to give way to a cow who wonders on the other side.
Scam when photography Varanasi
Varanasi can be a challenging destination for inexperienced photographers. There are many scams to watch out for. The most common one involves touts who will take you to see The main cremation ghat and ask you to donate wood for the funeral pyre . Usually you'll be paying at least 10 times more than what the wood's worth.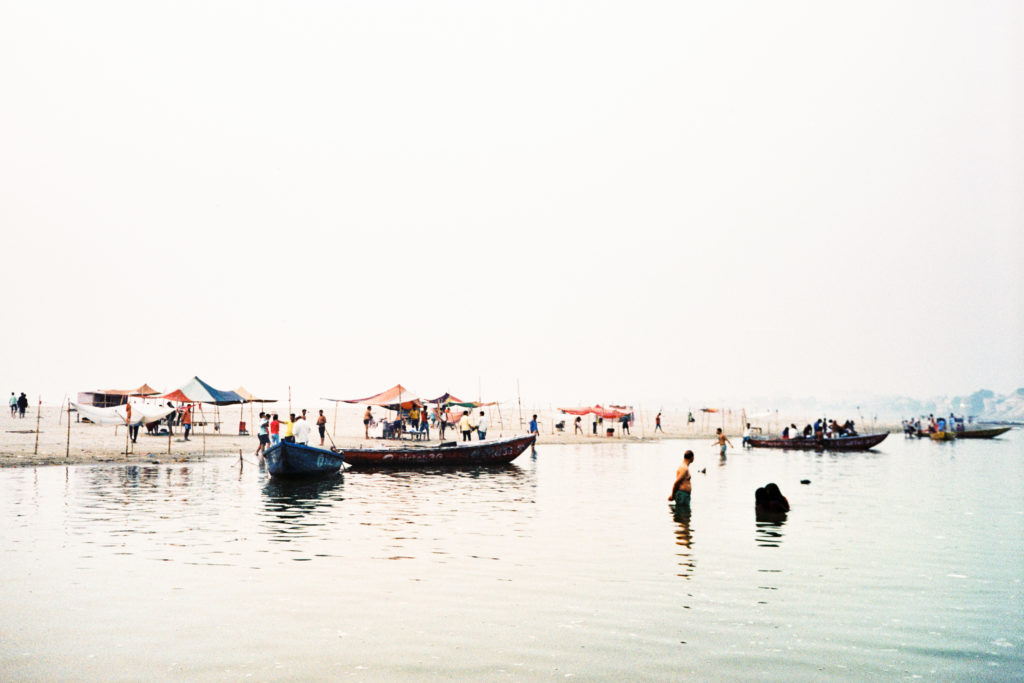 Avoid belly problem
Be careful when come to eat and drink in Varanasi where there are issues around clean water and food hygiene. However don't panic. Take these few simple precautions and your trip will be full of amazing food and memories.
Eat at busy spots full of locals, because the food is usually delicious and fresh.
Give your gut a pro-biotic boost
Heat kills germs, so choose hot food.
Embrace street food, but ask your leader for recommendations.
Drink without ice
Beware of buffets, the dishes can be left unrefrigerated for too long.
Avoid salad as it's usually rinsed in tap water.
Don't eat cut fruit. Instead, purchase fruit with a peel (like oranges or bananas and peel it yourself.
Avoid Western food. It may not be as good quality as local food.
Try not to overeat, particularly at the start. Your body needs time to adjust!
Stay safe when photography Varanasi
Take some precautions, such as not going out alone after dark, especially if you're a female. Is common in India for women to receive unwanted attention from men in tourist areas. So women will feel most comfortable wearing loose clothing that covers their shoulders and legs. A shawl that covers the breasts is also beneficial.
---
---