Photography Shekhawati
Is not the most popular destination of Rajasthan but is well worth including on your itinerary. Photography Shekhawati can be a really good surprise. Located in the triangle of Delhi, Jaipur and Bikaner, this unique region is often referred to as the world's largest open air art gallery.
In the 18th century the Shekhawat Rajputs established in this area along a caravan trade route. The region was a prosperous and over the next century, many people from the neighboring Marwar community migrated to Shekhawati and made it their home. These rich business people commissioned artists to paint frescoes on their haveli , a traditional, ornately decorated residence. However most of the families settled elsewhere, as a results many homes are abandoned, locked up, and neglected. But the frescos and the decadent architecture remains, an opportunity for photographers.
How to Get There
Can you reach the region from Delhi and from Rajasthan via Jaipur or Bikaner. Hiring a car and driver is recommended and facilitates easy touring of the region. Anyway can you take train from Delhi Sarai Rohilla station and go via Churu to Bikaner or Jodhpur. The travel time is approximately 4.5 hours. Or there are more frequent departures from Jaipur, and they conveniently stop at Nawalgarh. Travel time is approximately 3.5 hours. Also you can flight at the nearest airport, Jaipur situated around 150 kilometers away. The last choice is take a bus, but are slowly and you have to change station more then one time.
Best time to visit
The region is one of the hottest in north India. From October to March is the best period to photography Shekhawati. This is when the weather is at its coolest. Usually winters are refreshing and pleasant, but cold at night. The temperature gets uncomfortably hot from April onward, easily reaching 35 degrees. In summer becoming so hot until the coming of the monsoon. So I suggest you to avoid this period. In February take place Shekhawati festival. It is dedicated to showcasing the heritage of the region, include a handicrafts market, organic food court, cultural performances, and local games.
Be Prepare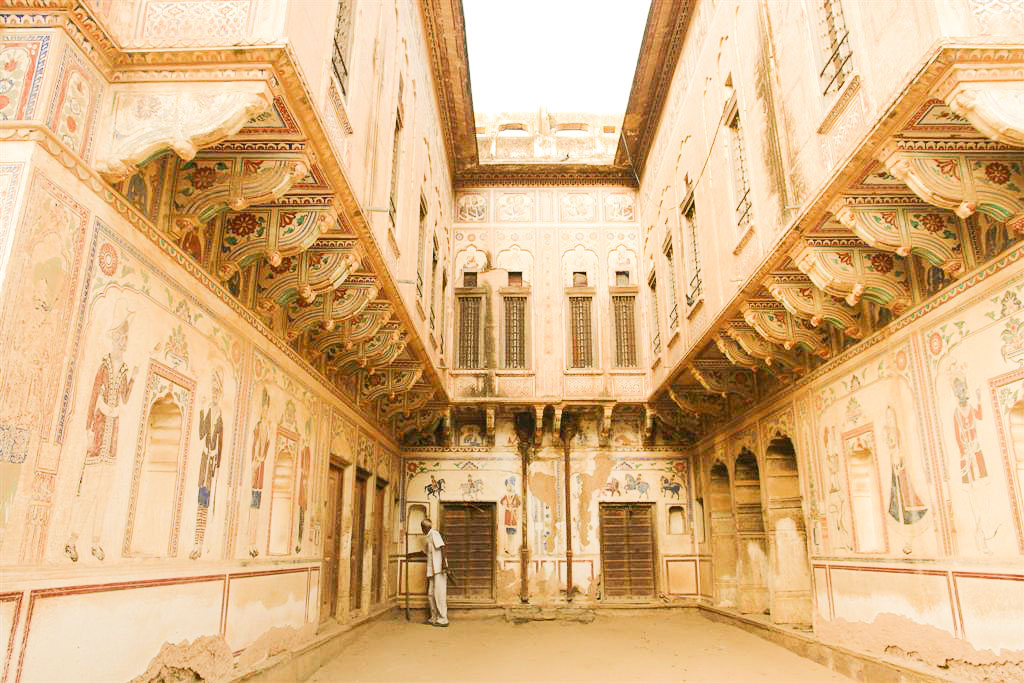 You need to preparing in advance your photographic trip to Shekhawati. Indeed the city can be dirty, chaotic,intoxicating, crazy, exasperating, wonderful, squalid, beautiful, overwhelming, and fantastic. Is important to see previous works of the others photographers, know the culture and hindu religion. So get all the information you can get because there can be helpful. I give some advice here to prepare your photography trip.
Locations
As the Shekhawati region is spread out over around 100 kilometers, it's a good idea to choose a base for yourself. You'll most likely find that a few days in the region are enough. Mandawa is arguably the best choice to stop, it's the most photogenic destination and centrally located for exploring the region. If you feel like relaxing though, Shekhawati is a peaceful region for some time out.
Mandawa
This town looks like a rural Rajasthani village and you can visited by feet. So it's a pleasure to go outside with your camera by taking photos of the decorated Shekhawati havelis. Some of them are sadly dilapidated but give them a sense of decadence with I like to capture. Meanwhile you look this ancient mansion you will visit this Rajasthani village with marvelous people wearing colorful clothes. In the centre of the town you will see an imposing fort, turned into a hotel, with nice panoramic view over the town. During the day you can take plenty of time photography mostly Haveli and their details , but with no pressure. Some of the mansion are private and you have to pay a reasonable fee. Spend your time here is well worth it.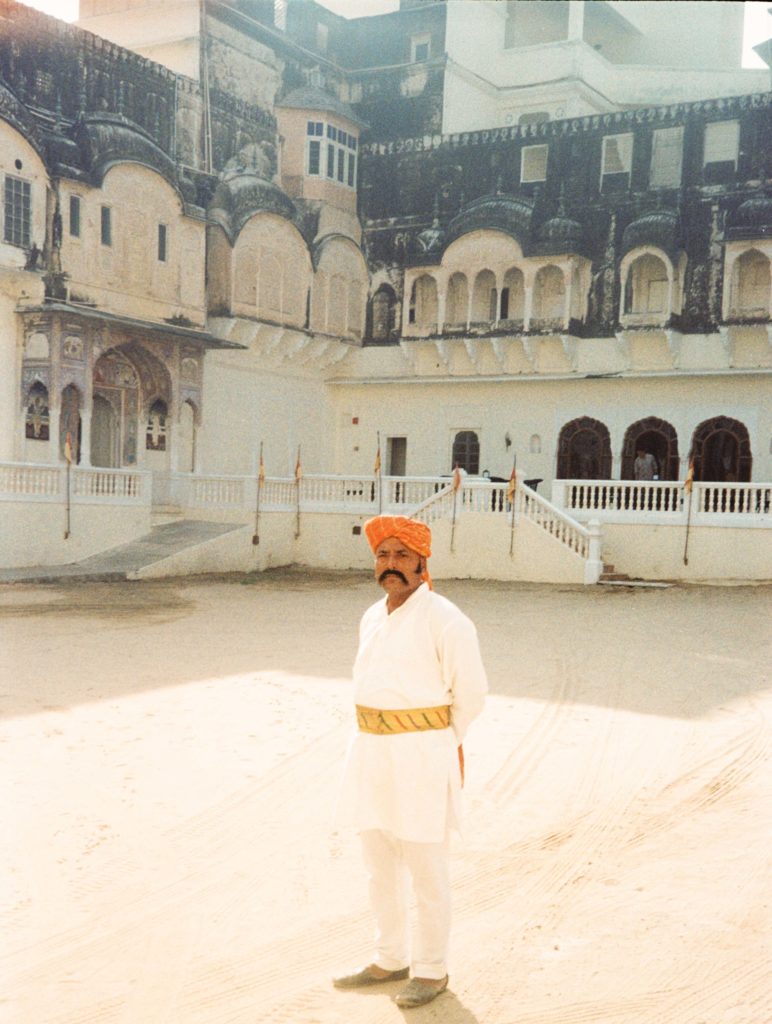 In midday can be so hot and then try to go outside early for sunset and late for sunrise. So use this time to rest, edit your images or getting other villages.
Other places worth
Nawalgarh: Nawalgarh is a vibrant with a colorful bazaar, a nice fort and painted havelis to photograph. Maybe here you capture the finest frescoes in the region in some of the most attractive havelis.
Fatehpur has many painted havelis to capture. Unfortunately, again, many haven't been well maintained. Also you can look at the frescoes on the walls of the Devra and Singhania Havelis or Nadine la prince Haveli.
Jhunjhunu: The Old Capital and largest town in the region. Located in the north, it has a number of painted havelis, as well as an old palace and numerous temples. However, it lacks the charm of the smaller village.
Mahansar: The lovely small town of Mahansar was settled by the prosperous Podder family who dealt in opium and chintz. The town flourished until one of the Podders lost his livelihood when ships carrying opium sunk. The two main attractions are the Mahansar Fort and the Sone ki Dukan with its gold painted murals that tell the stories of Hindu mythology.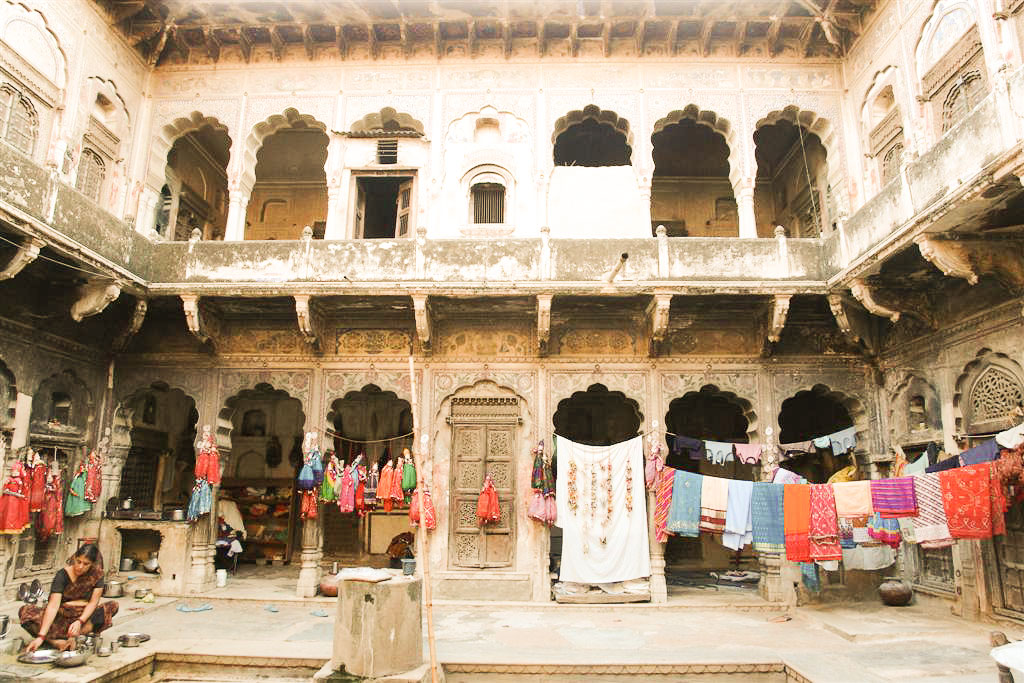 After Shekhawati
Once you photography Shekhawati can you move to the west toward Bikaner and Jaisalmer and more insight the Thar Desert or to the east to Delhi. Here I give some advice about photographing the region of Rajasthan.
Be Responsible
Remember when you going to photography Shekhawati that you need to respect the people you will met, their culture and customs. So when taking pictures, do be discrete. Is important to have responsible travel behavior.