Since 2008 I have been photographing the Camel Fair Festival. So, after many edition i will share some information and tips.
The History of the Festival
The Camel Fair festival originally was a hindu pilgrimage to a sacred lake of Pushkar in Rajasthan. In fact, according to mythology, all the gods and goddesses of Hinduism assembled at this lake on the day of Purnima (full moon night) to consecrate the lake. This is how the lake came to be deemed as sacred and that is the reason behind an enormous amount of pilgrims coming together at the Pushkar Lake. The pilgrims coming here for a holy bath to wash away their sins and pay their respects at the Brahma Mandir, the only one of its kind in India. The waters of this lake are also believed to possess healing properties. Therefore, Pushkar has also been referred to in the Hindu scriptures as one of the five holy cities. Although is not big and chaotic like Varanasi.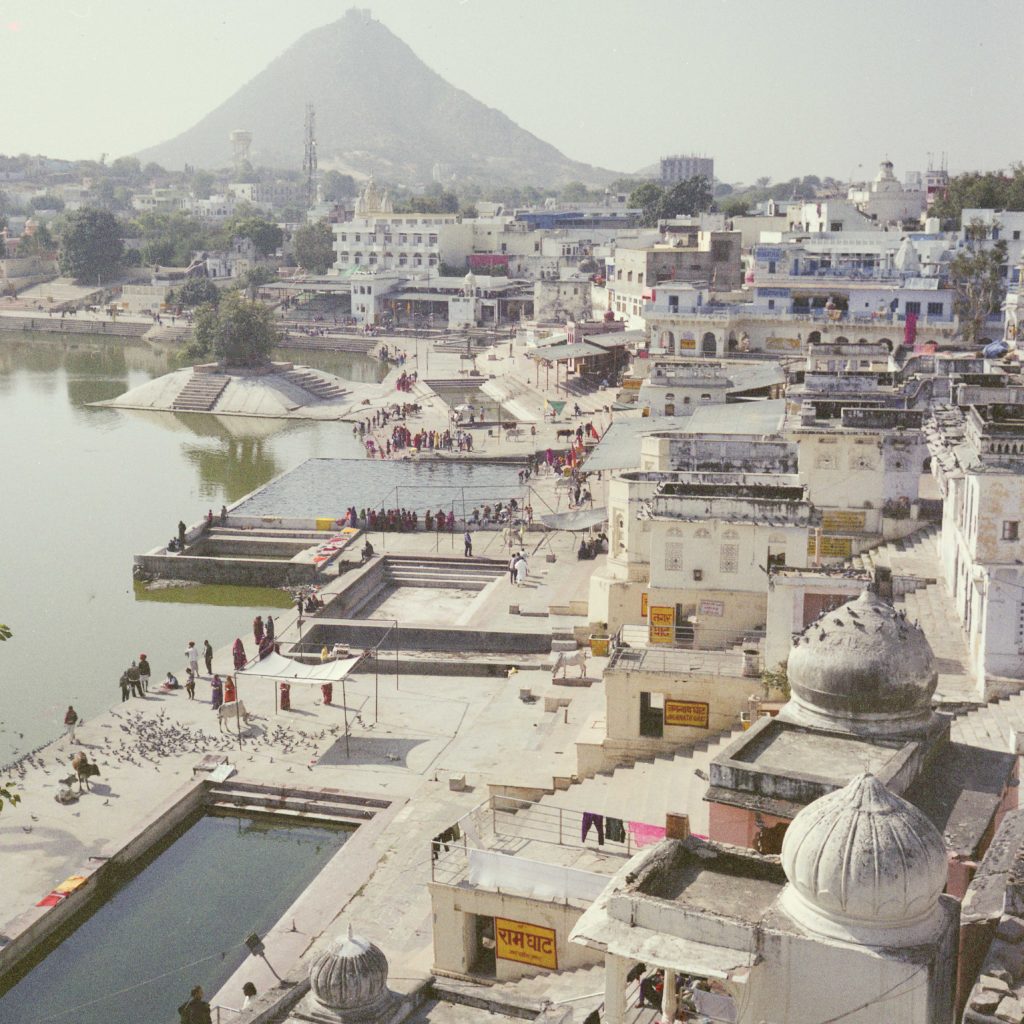 The Festival Today
Even some pilgrims take a holy dip in the Pushkar Lake during those days, the Pushkar Fair is becoming a carnival and a big business resource for a small village. So hundreds of camels, horses, and cattle coming from all part of the region to be traded by villagers and witnessed by worldwide travelers. Indeed today is one of the largest and most popular festivals in India , the Pushkar Mela, takes away from the hustle and bustle of Rajasthan's cities. Therefore this rajasthani festival is as much of a business venture for farmers and shepherds, as it is a spiritual celebration of epic proportions.
Every year I will be back to photograph Camel Fair Festival.
When photographing the camel fair
The Pushkar Camel Fair is directly linked to the Hindu lunar calendar. So this festival takes place in the lead up to the full moon in the auspicious Hindu month of Kartik . Usually this coming in October and November, the most prosperous time to absolve past sins. During this moon phase, locals bathe in the holy waters of Pushkar Lake, hoping their wishes will come true.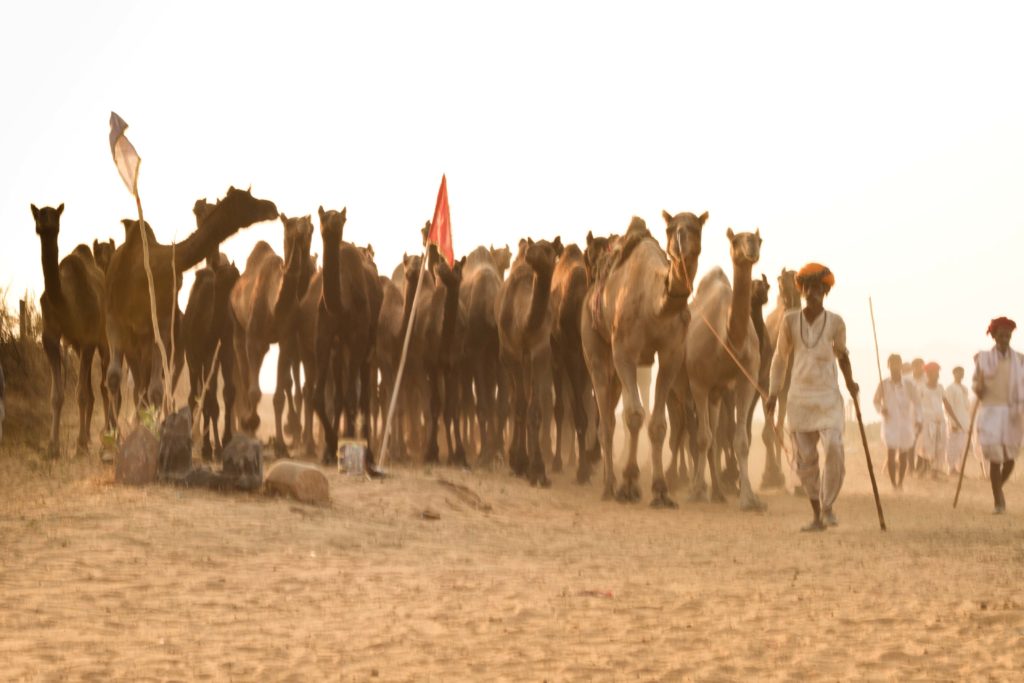 The fair has two main components: the camel trading and religious rituals. The first happens at the beginning of the festival, with competitions and activities. So the Rajasthan Tourism conducts an official program of events. In fact, during seven-day apart the main attractions of the fiesta are camel and horse races, cultural performances, exhibitions, magic shows, longest mustache competition, bridal competition. And I forgot, many photographer desperate for shooting. However towards the end, the focus shifts to the religious ceremonies. So the pilgrims going to celebrate the hindu puja near the sacred water of the lake.
Photographing the location of camel fair
The main attraction and all the tends of the traders are just outside the small village. Pushkar is not big and you can walk easy around it. For arrive at main attractions and stands you have to follow the main road and at the end you start to see many camels and stands. The area of the Pushkar fairs is huge and is better that you figure out the location. In fact, is important having a mental map of the festival before start shooting.
Practical Tips
Even I already give you some advice to shooting like a pro in festival, here I wrote some extra tips thinking in this fair.
Try to arrive the week before start the festival. Is better know the location in advance. Before start you can have some good surprise.
Study and check the photographer who has been cover the Festival.
Prepare your equipment very carefully, especially take care of the lenses of the camera. Is full of dust out there.
Make a recognition of the location at the dawn, because the place is huge and you need to know where you are.
Respect the pilgrims and their faith and tradition. Especially around the lake don't be invasive with your camera.
If there are many photographers in one place go away. More often you will see a group of photographer with big zoom lenses shooting in same location (the other photography tour). You will lost time and energy there. Also you don't come to have picture of these scenes.
Know the locals and just listen what have to say.
Spend sometimes walk around and try immerse yourself in the spirit of the Festival.
Tell a Story , find a good story to tell. The Pushkar fair festival is full of it.
Have fun when you shooting if not come back home.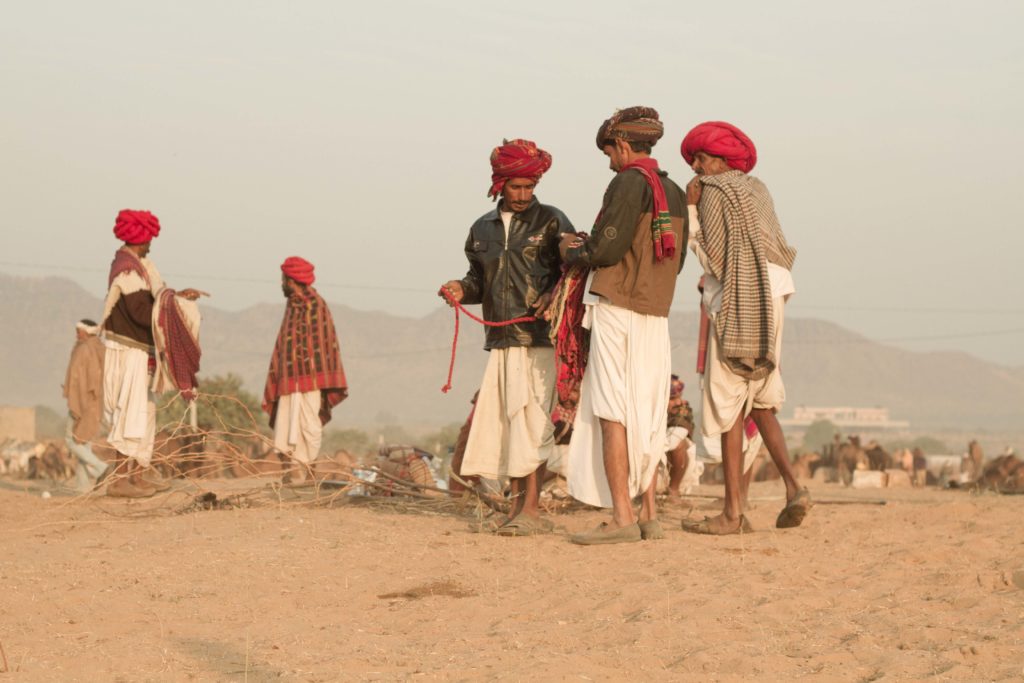 Be Prepare to photograph the Pushkar Mela
For you photographic trip in India is better to prepare well, the country is big and not easy to dealing with, especially if you are first timer. So find what you want really shooting at is fundamental. Then prepare you like a pro to photograph festival and start to be organize well in advance. Usually, my first step is doing a good research of the festival. So I check the exact date and the schedule. After, i look a map for the location, figured out an itinerary and finally i get there. Then what kind of subject i want to shooting, what story I want to tell. I also will take some information about rules and social behavior. Finally i will search for works made in the past by greater photographer in India, like Raghu Rai. From their books or website you will be learning a lot of things and inspire. Take notes and made a checklist in this process can be great. I really recommend to do that.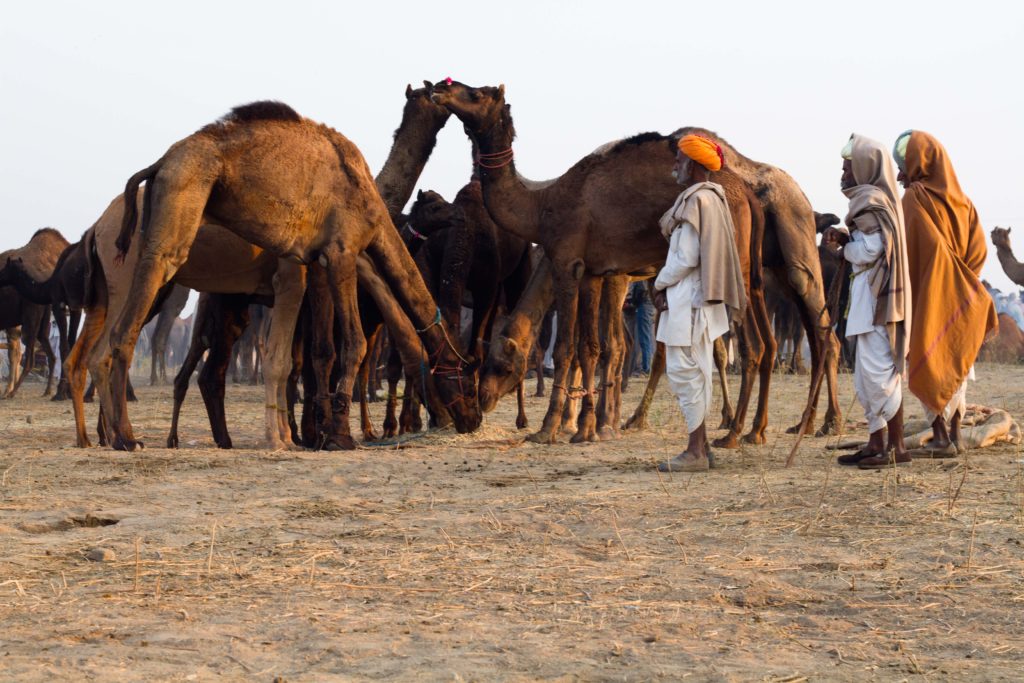 Planning your photography tour in Pushkar Mela
Once I've found the potential locations, then i try to plan out when I want to shot each spot. The most important thing in this regard is the direction of the light. So i look at sunset vs. sunrise, and try to make an educated guess on when it will photograph best. Once I've done all that, I can create a bit of a shoot plan.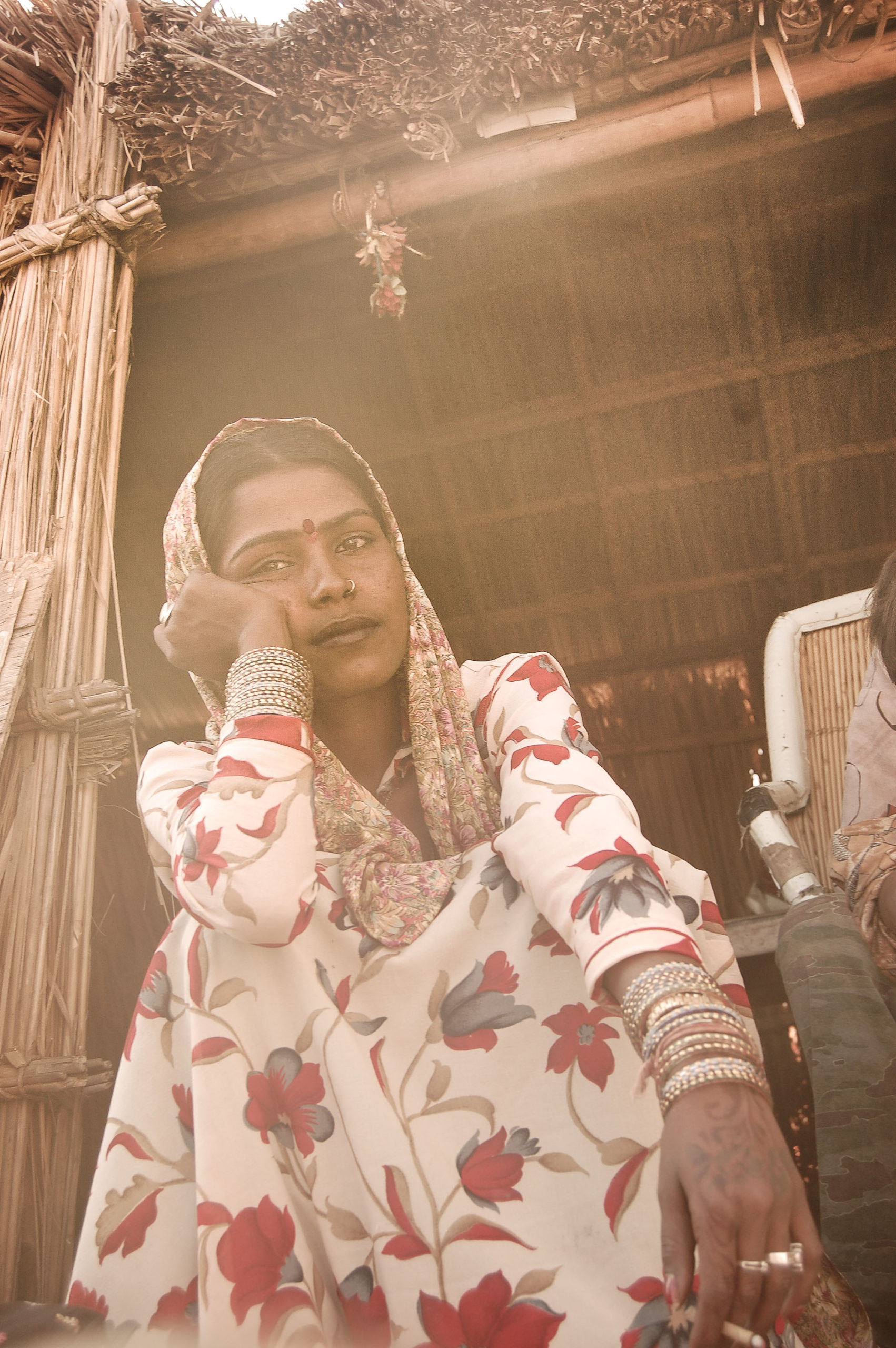 Photographing in camel fair with the right Equipment
Traveling sometimes can be tricky if you need certain gear, so try to have all ready with you. In Pushkar there aren't photography shop and you can find just only some batteries. So you will have to prepare all you gear before coming in Rajasthan. My complete list of equipment for this amazing experience is this
The camera
Lenses.
Off-camera flash.
A wireless camera tether.
Backups of everything, especially batteries and memory cards.
Editing software.
Cables and recharges
The day before the festival start off by ensuring you have the basic fresh batteries, you may even go with rechargeable ones well. Also before everything start be sure to clean your lenses, so your shots aren't ruined by specs of dust or dirt. Remember to bring along extra memory cards, especially when the event will last a long time. It's even a smart idea to carry a hard drive to the event, so you have backup capabilities. Don't forget a good kit of snacks and water. In fact you won't be able to do your best when you're hungry or thirsty.
How to arrive
Pushkar is small village but well know and connected, however most of time you have to stop in Ajmer the most near city. From here, you can take a taxi or a local bus, and usually take like half an hour. There are connections via train from Delhi and Jaipur, at least 8 daily but just only two are fast. For me this is the best way to reach the location, however you can hire a taxi driver or take a bus. Also you can take a flight to Jaipur or Jodhpur and then from there can you reach Pushkar.
Respect the Local when photographing in camel fair
When you are shooting and traveling in India remember to respect their culture, religion and law. The locals are really friendly but they are really strictly about certain issues, like drugs and religion. So when you photography in Rajasthan stay away from problem and take information about it. Usually the most strictly places are the temple and the sacred site, where there is a dress code. For having more information on responsible travel photography check my other post.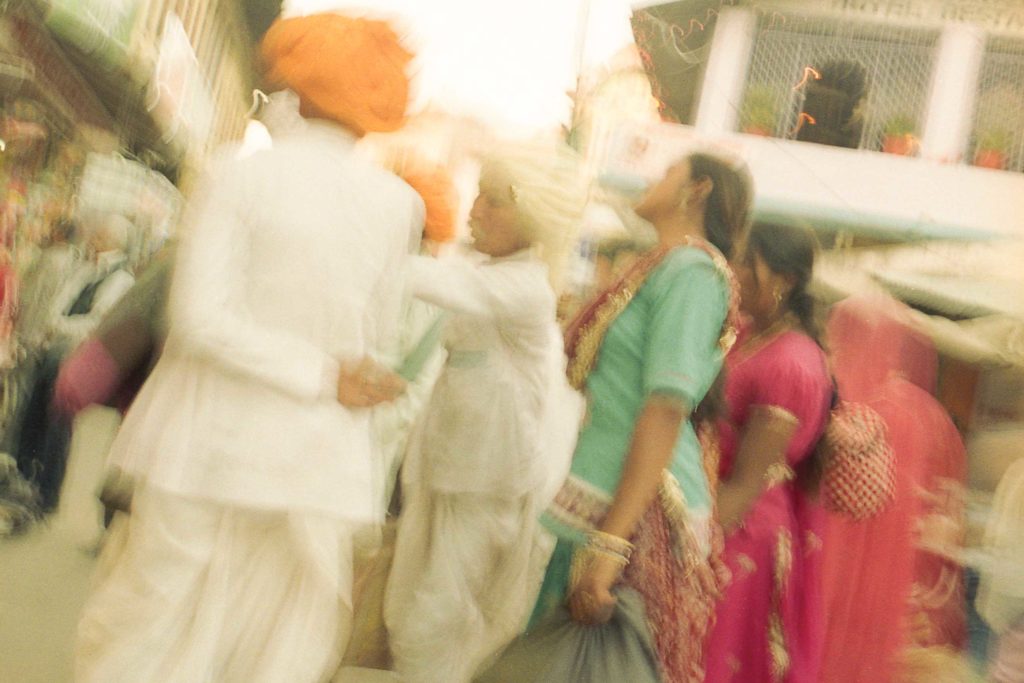 Food when photographing in camel fair
Be careful when come to eat and drink where there are issues around clean water and food hygiene. However don't panic. Take these few simple precautions and your trip will be full of amazing food and memories.
Eat at busy spots full of locals, because the food is usually delicious and fresh.
Give your gut a pro-biotic boost
Heat kills germs, so choose hot food.
Embrace street food, but ask your leader for recommendations.
Drink without ice
Beware of buffets, the dishes can be left unrefrigerated for too long.
Avoid salad as it's usually rinsed in tap water.
Don't eat cut fruit. Instead, purchase fruit with a peel (like oranges or bananas and peel it yourself.
Avoid Western food. It may not be as good quality as local food.
Try not to overeat, particularly at the start. Your body needs time to adjust!
---
Stay safe photographing camel fair
The camel fair festival usually is really safe. Anyway is better take some precautions, especially for the woman such as not going out alone after dark. The week of the festival with sometimes is too much crowded in some part of the village, so avoided. Generally is common for women to receive unwanted attention from men in tourist areas. So women will feel most comfortable wearing loose clothing that covers their shoulders and legs. A shawl that covers the breasts is also beneficial.
DOCUMENTS
In the last years become easy apply for an Indian tourist visa. You will have to contact the embassy or consulate via online (Price approx. € 65). Passport with a minimum validity of six months and at least two blank pages.
VACCINES:
Prophylaxis or vaccination for India is not mandatory. However, it is recommended to contact the external health of the autonomous community of each participant.
My Photography Workshop in Europe and Asia