Your essential guide to photograph Jaipur
The Pink City
Photograph Jaipur can be really amazing experience and one of the favorite location in India. In fact the city, surrounded by hills and dotted with forts, is a treasure with monuments, market and amazing tradition.Also the houses are so colorful with pink latticed windows line the streets and look almost magical at sunset. So you will have a lot to point and shoot. Even the people are Kindly and really photogenic. However Jaipur can be really noises city and here the traffic jam can be a mess. Many location to shooting are located in the characterful Old City. It is surrounded by a wall having seven gates, which is distinctively painted pink. Use this guide to photograph Jaipur and start to walk around the Old City.
Planning Your Trip
Best time to visit
From October to March is the best period to photography Jaipur. This is when the weather is at its coolest. Usually winters are refreshing and pleasant, albeit chilly at night. The temperature gets uncomfortably hot from April onward, easily reaching 35 degrees.
Festivals
The most important festival in town is the Literature Jaipur and takes place every year towards the end of January. Here more than 100,000 people attend the hundreds of sessions held over five days. Also there are some major religious festivals like the Kite Festival usually in mid January, in March The Holy. Instead in late July or August the Teej, and the important Diwali in late October or early November. Other near town in Rajasthan has really interesting festival to photograph.
Be prepare
You need to preparing in advance your photographic trip to Jaipur. Indeed the city can be dirty, chaotic,intoxicating, crazy, exasperating, wonderful, squalid, beautiful, overwhelming, and fantastic. Is important to see previous works of the others photographers, know the culture and hindu religion. So get all the information you can get because there can be helpful. I give some advice here to prepare your photography trip.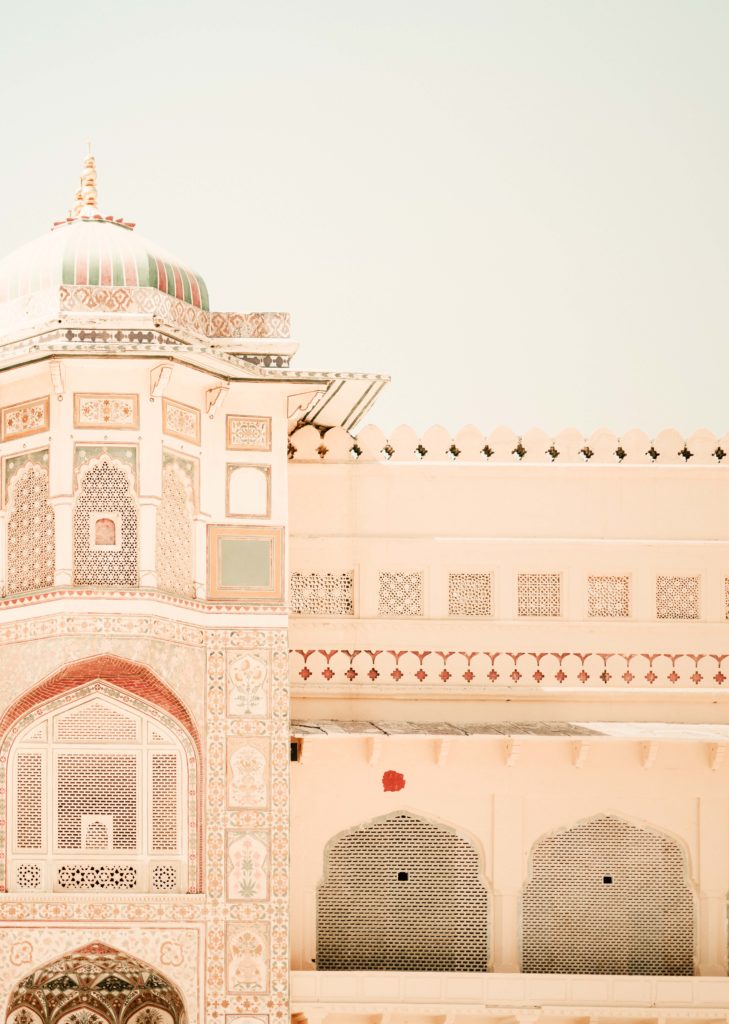 Indians called Jaipur the Pink City because of the color of the stone which was used for the construction of all the ancient structures and buildings. It can be observed by the fact that all the buildings of Jaipur are pink in color. In 1876, the Prince of Wales and Queen Victoria visited India on a tour. Since pink denotes the color of hospitality, Maharaja Ram Singh painted the whole city pink in color to welcome the guests.
---
Getting there
I like travel to Jaipur by train. It takes a minimum of 4 hours from New Delhi. There are many over the day but you to be sure to take the fast one. Check this time table of the Indian Railways .Also the city has an airport and is connected by direct flight from major cities in India including Delhi, Kolkata, Mumbai, Lucknow, and Khajuraho. Instead don't take the bus, the services to Jaipur tend to be very slow and uncomfortable. So avoid unless you're on a super strict budget.
Location
Start from the Old City
A good start to photograph Jaipur is going to a good walk around the old town. This area is extraordinary well laid-out with its wide, straight streets running in a grid that forms a series of bazaars.In fact, this can give you a taste of vibrant city, a lot of smelling , but a great view. Go towards Panch Batti circle and the old world Raj Mandir cinema, head along M.I. Road, which is the main thoroughfare. If you continue along M.I. Road, you'll come across the pink walls of the Jaipur Old City on your left. There are three gates, spaced about 500 meters apart, which provide entry into the Old City.
So I suggest you to enter from Ajmeri Gate and turn right. From there you can walk all the way along to Sanganeri Gate and the start of Johari Bazaar.The first bazaar you'll encounter is Nehru Bazaar. It is favorite with the women of Jaipur, it's full of shops selling brightly colored fabric, shoes, trinkets, and perfumes. So here you have to ay attention of the colors and atmosphere. After you can see going towards the and Bapu Bazaar. This market lies along the road between New Gate and Sanganeri Gate. Many shops sell styles of clothes and bags that foreign tourists like.
Palaces
If Keep walking straight, and you'll reach Jaipur's most famous landmark, the Hawa Mahal (Wind Palace). This unusual example of Rajput architecture was built in 1799 by Maharaja Sawaj Pratap Singh. It was made so that the ladies of the palace could look out over the street, from the small windows, unobserved. There are 953 of these windows in total, spread over five levels! However, unfortunately, there's not much wind in the Wind Palace these days.
Next location can be the magnificent City Palace. To get there can you take two different way. First approach is to walk back past the Hawa Mahal and turn left, or keep heading along the road you were on and then turn right near Tripolia Gate. Once there you can start shooting the Rajasthani and Mughal architecture and marvelous details. Behind the main courtyard, you'll be able to see the towering seven floor, Chandra Mahal.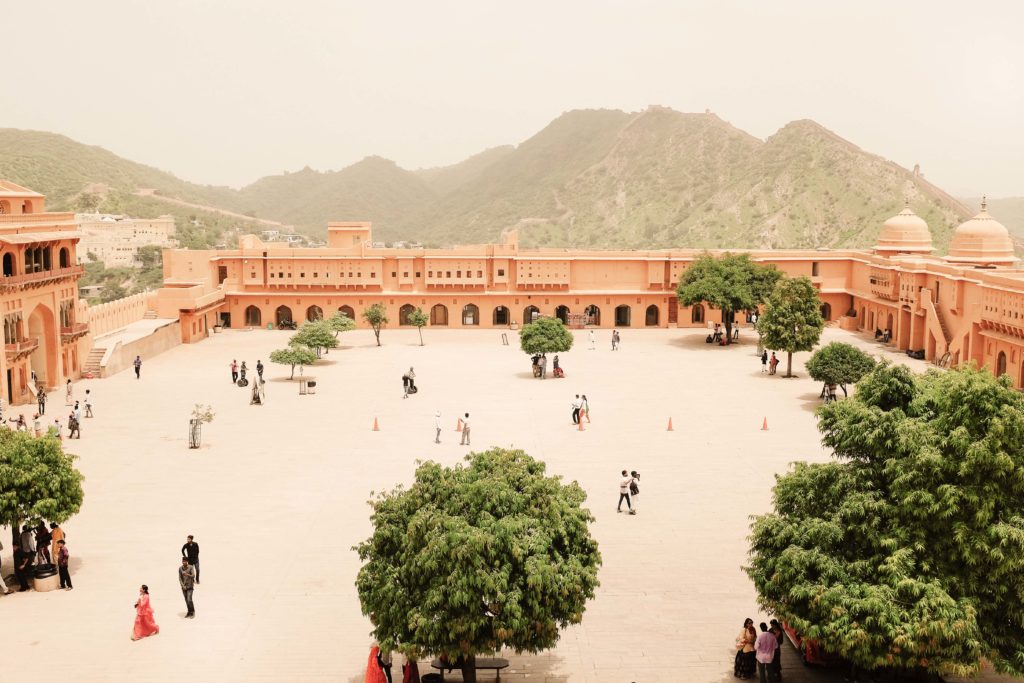 ---
The Jantar Mantar
As you head out of the City Palace , you have to stop at Jantar Mantar. This astrological observatory is one of the best location to photograph Jaipur. It was completed in 1738 by Maharaja Sawai Jai Singh II, a renowned mathematician and astronomer. He constructed five in various cities like one in New Delhi, but this one's the biggest and best preserved. On first look, Jantar Mantar actually looks like a strange collection of massive sculptures. However, each of them is actually an astrological instrument with a specific purpose, such as calculating eclipses. The most impressive one is the huge Samrat Yantra sundial. The lines of these structure give you amazing perspective. Early in the morning is better time to photograph because there are less tourist or student.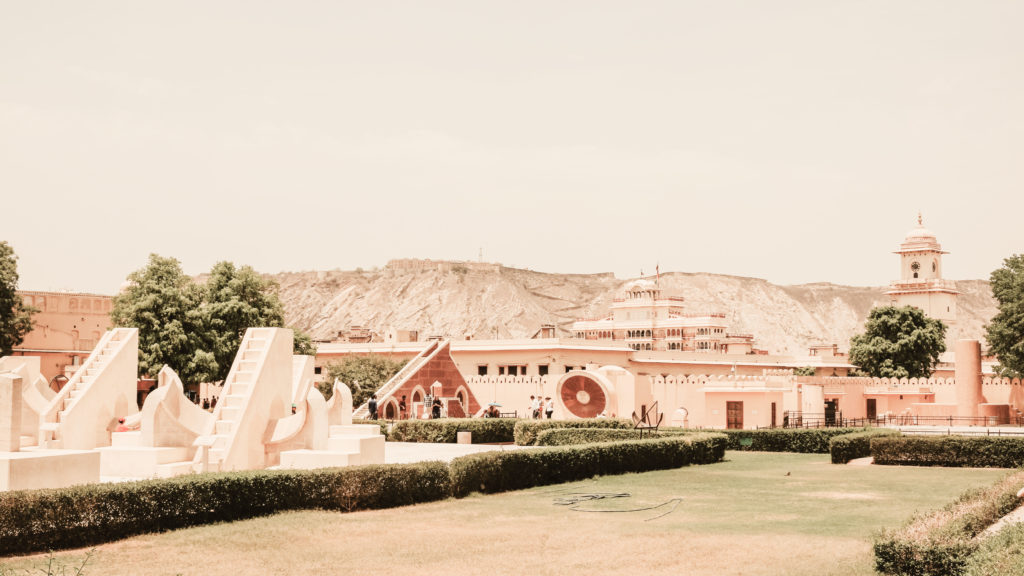 ---
Fortresses
Between fifteen fortress in Jaipur there are tree well worth to photograph. For me the best is the Amber Fort. It is situated 11 kms from Jaipur and is built with a great artistic taste. Indeed is an architectural masterpiece!!!. Cradled on the top of a hill forming a beautiful reflection in Maotha Lake, it is popularly known as Amer Fort. This majestic building with its maze-like passages and serpentine staircases. Maharaja Man Singh I, who led Mughal Emperor Akbar's army, commenced constructing the fort in 1592. Inside is a series of lavish palaces, halls, gardens, and temples. Elaborate mirror work adds to the grandeur. Amber Fort is open daily from 8 a.m. until 5.30 p.m.
Another location to photograph Jaipur is the Nahargarh Fort. The sunset is god time to do it and i suggest you to going there earlier. I fact is out of the city and perched high on the rugged Aravali Hills. Sawai Jai Singh II commissioned it in 1734 to help strengthen the security of his new capital. The fort provides spectacular views over the city and with the golden hour can be a really great shot. If you have time also you can visit Jaigarh Fort. It is a grand structure perched on the top of the 'Cheel ka Teela' hills.Cradled on the top of the cliff, it is a palatial structure bounded by verdant greenery and massive battlements.
After Jaipur
Once you have photograph Jaipur can you go to the west to small lake town Udaipur. Or you can visited the near Agra and Taj Mahal. So you are plenty of options. For more info and advice check my photography guide to Rajasthan.
Ethical photography
Remember when you going to photograph Jaipur that you need to respect the people you will met, their culture and customs. So when taking pictures, do be discrete. Is important to have responsible travel behavior.