This region is one the gems of Asia for photographers. After spend some years traveling and photograph Rajasthan, I will give you some practical tips.
Easy to reach from the capital New Delhi, this state offer a lot of opportunity to shooting. The word "Rajasthan" means "Land of the Kings", and there is no more appropriate name for this fabulous region of India where the most important vestiges of the glorious past of the Maharajas are preserved. Discovering the region you will photograph Rajasthan amazing palaces but also deserts, caravans of camels, impregnable fortresses and extremely lively culture. Since the 2008, I visit the area and I have exploring with different kind of transportation from buses to a train, and also riding a royal enfield bike. In recent years, when I make a photography workshop or a tour I travel with a private car with a local driver, maybe is the best and more safe transportation.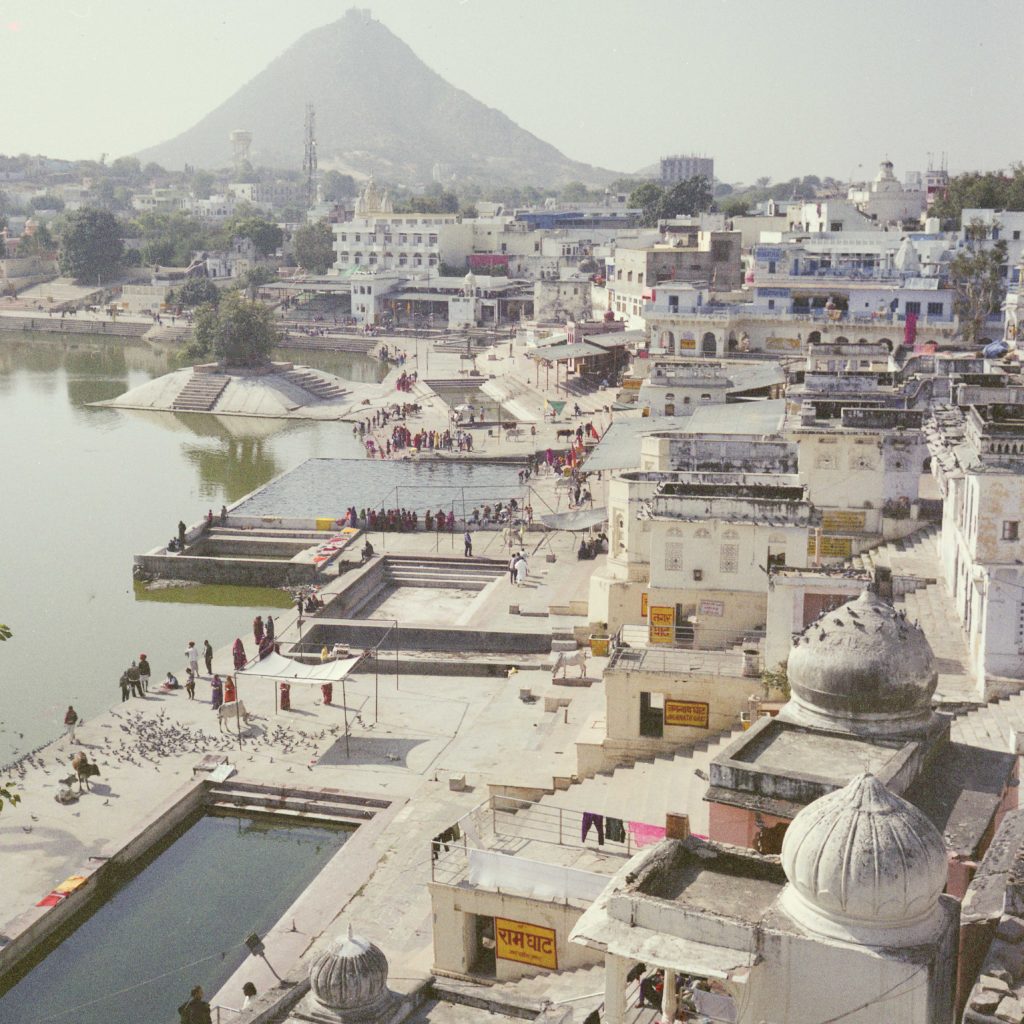 Be prepare to Photograph Rajasthan
Before arrive to photograph Rajasthan get sure to be prepare to affront this huge region The region is big and not easy to dealing with, especially if you are first timer. So find what you want really shooting at is fundamental. Usually my first step to be prepare is to look a map of the area and how many itinerary choice i have to make. What kind of subject i want to shooting, what story I want to tell. So to be prepare i start to read about history, culture and contemporary issues. Also I will take some information about rules and social behavior. Then i will search for works made by greater photographers. Indeed from them you will be learning a lot of things. Finally,Take notes and made a checklist.
The Right Gear to Photograph Rajasthan
Photograph Rajasthan is a really a unique experience and you have to take advantage of this opportunity. Anyway you will capture stunning images in many location, no matter the gear. Even with a simple mobile smartphone you would do it! Indeed you will end your trip with many amazing pictures. Although, if you want to make the most of your journey in the region, here is some equipment that you might need.
A camera. It doesn't matter if your camera is a full-frame or APSC if you understand how to use it.
A wide-angle lens. Would be useful for some landscape scene to fit everything into the frame.
A versatile travel zoom, such as 24-105mm or similar. This will come in handy when you need to zoom in town. In india you will see many scene to capture and a zoom is a must.I don't suggest a dedicated telephoto, but having something with more reach will definitely help.
A mobile for application and more media like video or snapshot.
A tripod for the panoramic picture along the sea area and night photography.
(Optional) a polarizing filter. A polarizing filter can occasionally be useful, so if you have one, there is no reason not to bring it.
A Mobile Really useful for Gps or some App
Pick the perfect itinerary
Organizing a trip to photograph in Rajasthan means reducing a huge space in one itinerary. So remember you will never have time to see it all in one trip. Think about what interests you, what you like doing and how much time you have, and tailor your trip accordingly. So make some research before sure you will figure out better your stops. If your start from New Delhi is easy to reach Jaipur. Or you can also take a night train to Jodhpur, a more smaller city.
Anyway be realistic about how much you can fit in. Rather than trying to see the whole region, you may get more out of photograph in Rajasthan if you concentrate in few locations. However, internal flights – or much more enjoyable and atmospheric long-distance trains – are plentiful and inexpensive so you can hop from east to west if you want a general taste.
My favorite locations to Photograph Rajasthan
Jaipur, the capital of the region, has maybe the most subject to photograph in Rajasthan. The Pink city is surrounded by hills and dotted with forts, is a treasure with monuments, market and amazing tradition. Also the houses are so colorful with pink latticed windows line the streets and look almost magical at sunset. So you will have a lot to point and shoot. Even the people are Kindly and really photogenic. However Jaipur can be really noises city and here the traffic jam can be a mess. Many location to shooting are located in the characterful Old City. It is surrounded by a wall having seven gates, which is distinctively painted pink. I wrote a little guide to photograph the city.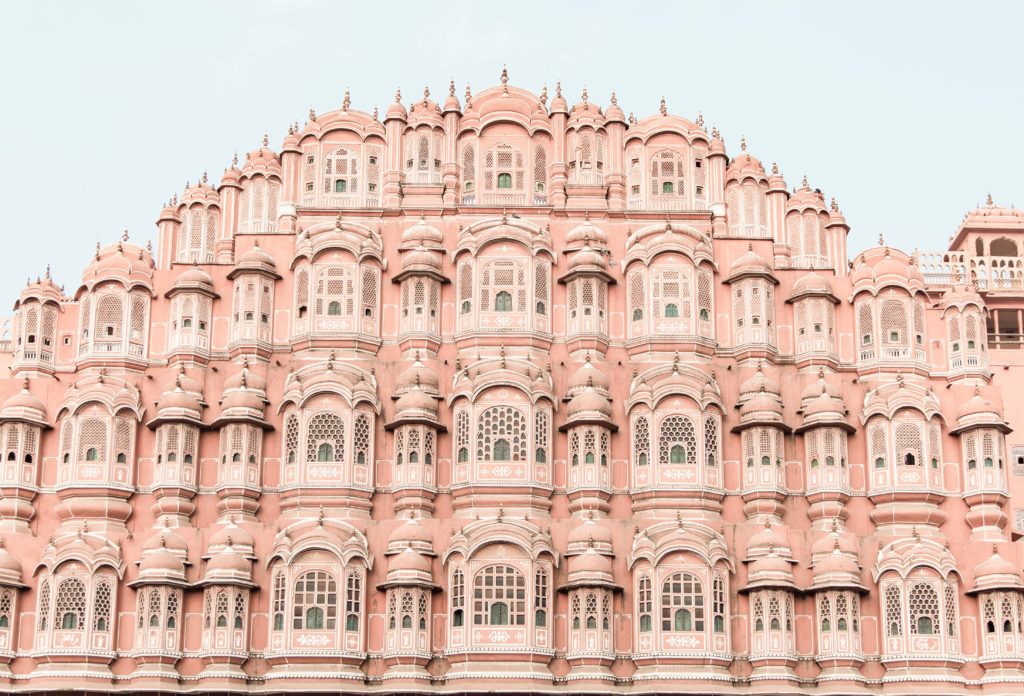 Jodhpur owes its fame to the Mehrangarh, the impregnable fortress that towers over the whole city and was built by the Maharajas in the early nineteenth century. The fortress walls seem to be the natural extension of the rocks that form the hill on which it stands. Anyway, for me the main attraction to photographer in Jodhpur is the old town. In fact, you will enjoy the walk starting from the Clock Tower and lose yourself in the alleys of the bazaar with its colorful vegetable stalls, spices and local handicrafts. In fact, the life of the street with this colorful walls is great location. Anyway, you have to pay attention with the daylight because insight the old town the sunset is coming early. Finally, don't l leave the city without testing the sandwiches at the eggs shop in the main entrance of the clock tower square.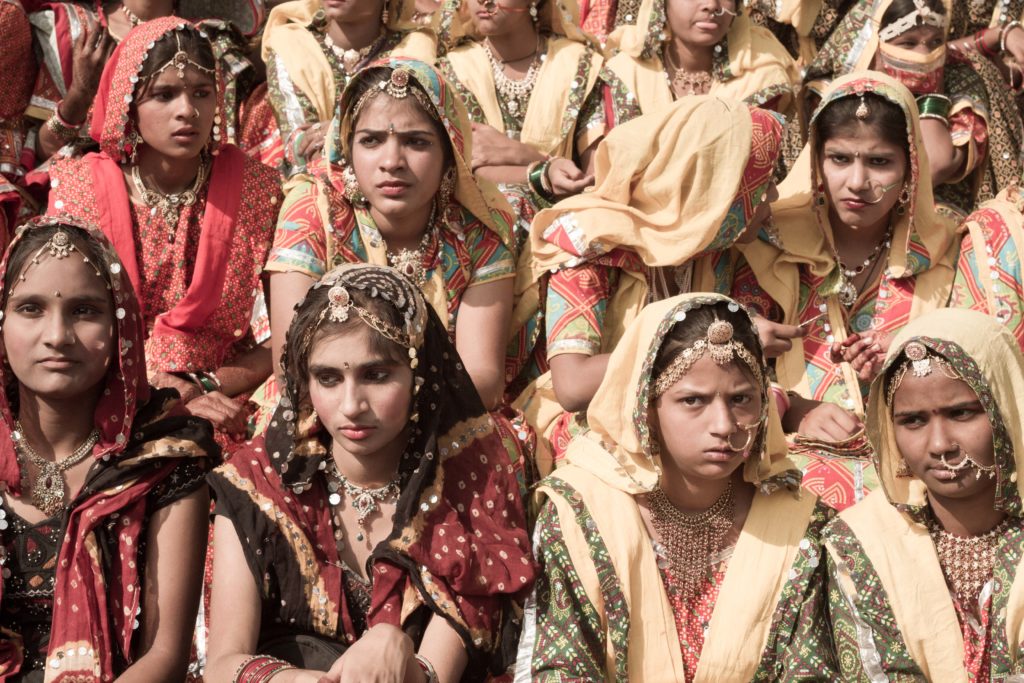 Udaipur is well know for splendor of its palaces and the magical narrow by-lanes of the old city . The city is around the azure lake, hemmed in by the lush hills of the Aravallis, a vision in white drenched in romance and beauty. Without doubt is one of India's most romantic cities, Udaipur is full of dreamy vistas and experiences. Is a really pleasure to photograph and quiet city to visit. Can be put in the middle of your itinerary because here you can recharge you battery.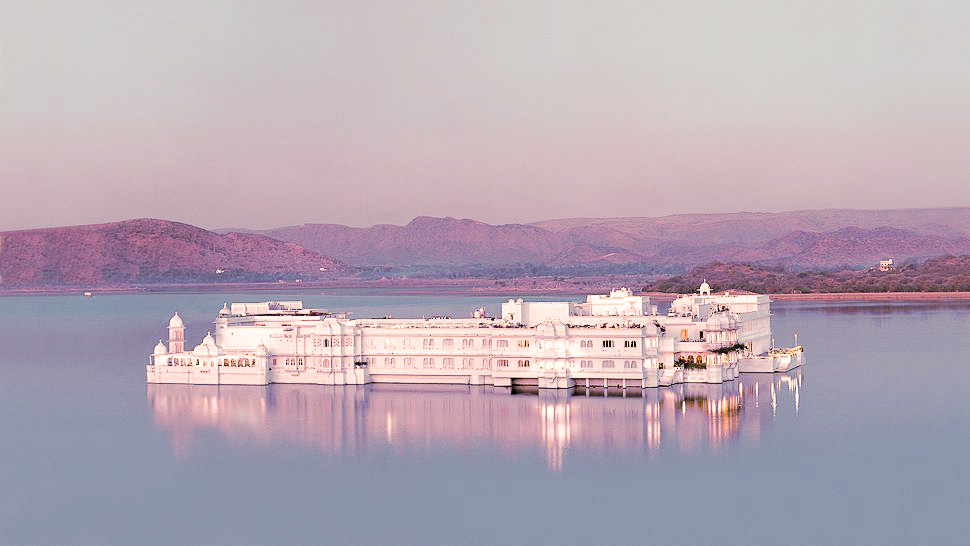 Maybe is one of the highlights of photograph in Rajasthan, but no so many people know about it. Indeed Is not the most popular destination but is well worth including on your itinerary. Photography the area of Shekhawati can be a really good surprise. Located in the triangle of Delhi, Jaipur and Bikaner, this unique region is often referred to as the world's largest open air art gallery. So, when you arrive there you will see a decadent and abandoned region. Don't be surprise if you are almost alone you will shooting between palaces, painted wall and beautiful doors. At least, you should spend 2 or 3 days exploring the area, because you will surprise how photogenic is this area and the local people. As the Shekhawati region is spread out over around 100 kilometers, it's a good idea to choose a base for yourself. Mandawa is arguably the best choice to stop, it's the most photogenic destination and centrally located for exploring the region. If you feel like relaxing though, Shekhawati is a peaceful region for some time out.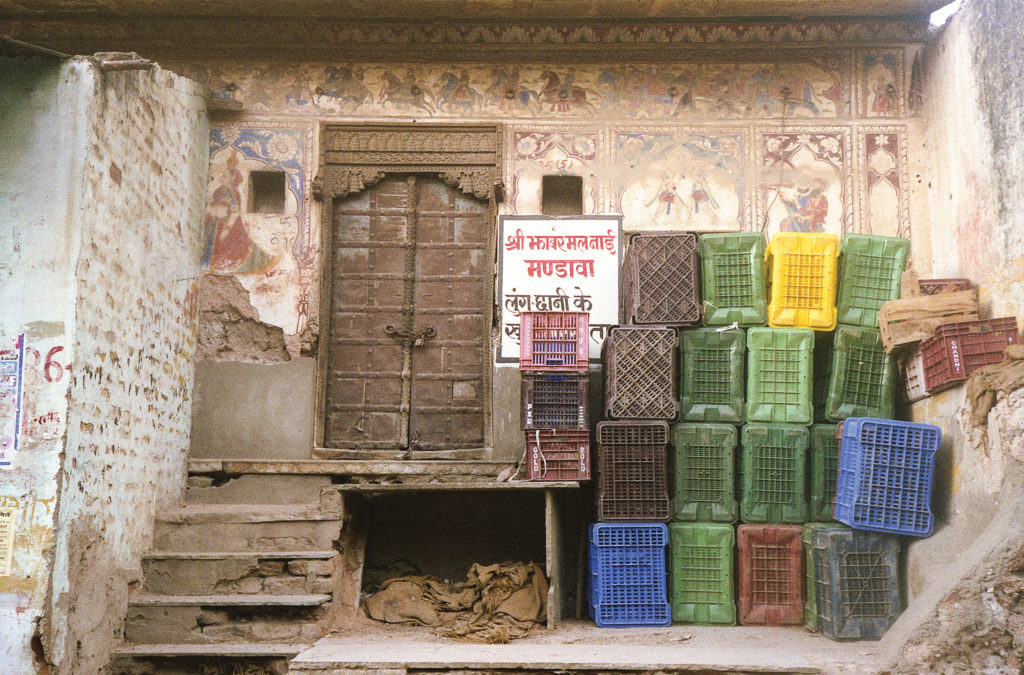 Travel to Photograph Jaisalmer is quite journey but it, in my opinion, is well worth it. In fact, the famed Golden City is located in the Thar Desert just 30 kilometres from the border with Pakistan. But believe me when first you will see the golden city of Jaisalmer will come up images of an oriental fable. It is a former medieval trading center buiding with distinctive yellow sandstone. So that give us many location to capture really nice images.
---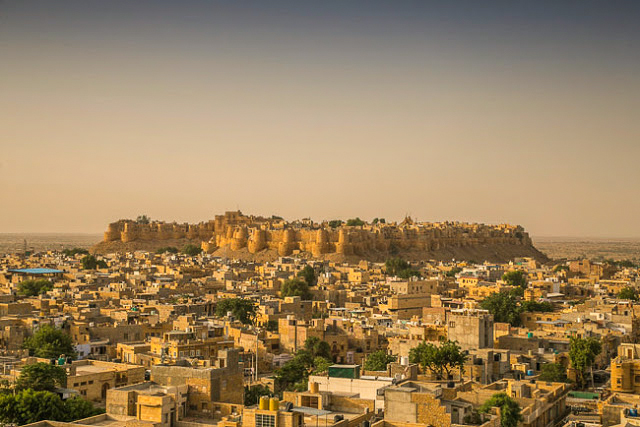 Rajasthan with a drone. If you have a drone, India is not a perfect place to fly it. Foreign are not allowed to use it, just Indians. So if you want take some scene from above you need a local agency , maybe in big city like Jaipur or New Delhi.
---
Pushkar
The small town of Pushkar is famous for Hindu pilgrimages to the Temple of Brahma, one of the few temples in the world dedicated to this deity. Therefore, it is a magical village where you can breathe an air of spirituality (real or supposed) at every corner. The town develops around Pushkar Lake, a sacred lake surrounded by the famous ghats, the stairs for the ablutions of pilgrims. Here should be the best place to shooting, but is not allowed. But all around the lake and in the main square of the little market is a place to be. For me the best way to shooting is to explore the little street and corners all around the town. Is friendly place and easy to walk around. Finally , the perfect time to visit is October to December when you also celebrate the Camel Fair Festival and capture amazing pictures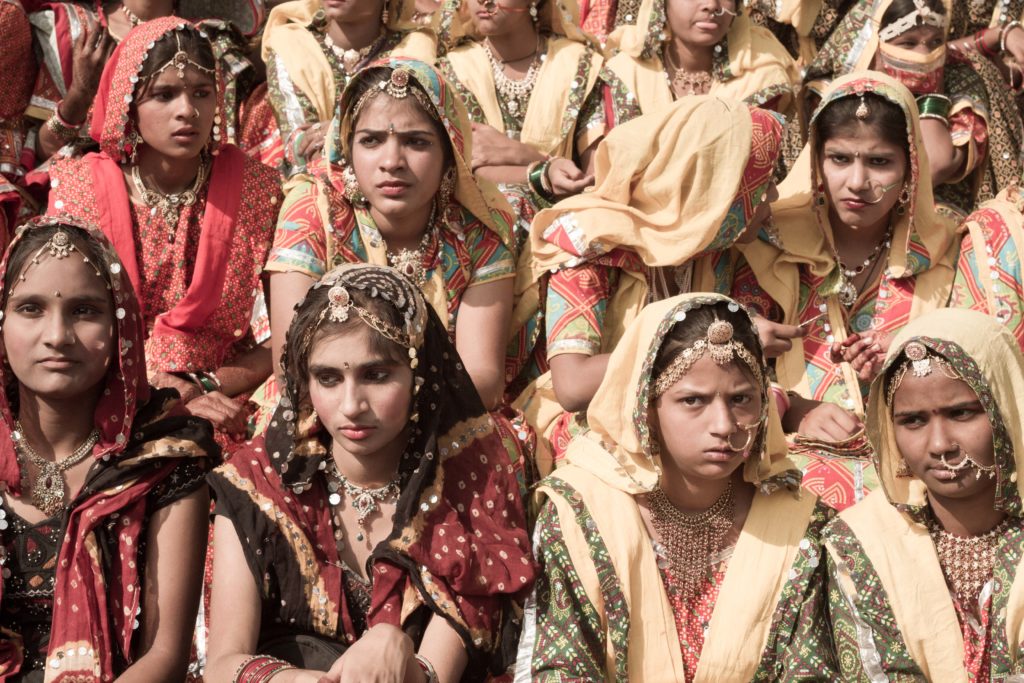 Festivals to Photograph in Rajasthan
Rajasthan teeming with heritage and culture and all of that is best expressed through the festivals celebrated here. After all, these are the best forms of expressions of the colourful cultural heritage that has passed on through the generations of this state. The folk, music , dance are opportunity to a photographer to capture some really unique. So during the the year there many festivals in this state. For many information i write a post just about the festivals to photograph in Rajasthan.
Quick tips
So when you planning to photograph Rajasthan check the distance in between city. Usually you will start from east side and you make a circle around the region, touching all major locations. Also the traffic can be really bad and you have to calculate more hour then you think. Start early morning when you live the city to avoid rush hours. Consider to use night train to save time.
In many destination you have to stay in authentic Havelis, a patronal typical house. Many of them are converted into boutique hotels. They will much more economical than luxury hotels and offer almost the same experience.
If you plan to shop , be ready to bargain with vendors. Especially you will have to master the art of bargaining when you take . , tuk-tuks, tourist buses and cabs but for the best rates . Usually is better refer to your hotels as they will give you better indication of rates.
Start your photographing day early morning near the temples or like in pushkar near the gaths . There are a lot of ghats in the city and it is beautiful to capture early morning life of locals hindu.
Move Around to Photograph Rajasthan
There are countless ways to explore Rajasthan and all of them are, in some ways, unforgettable. Whether you hop on a train, catch a rickshaw, or cruise the waterways, you're going to have a unique experience. Indeed transport in India can be complex and overwhelming. However, if you know a little about how things work you will be fine.
Hire a Car
The best method for you photographic trip in Rajasthan is take a private car with an experienced driver. However this is one of the most expensive forms of travel in India. But with almost 30 euro a day (depends on type of car) it's a steal compared to western prices. Usually many people start their trip in Delhi and make a circle itinerary around the region and back to the capital. In this case can you save some money and time.
Train
It is the fastest way to get from one side of the region to the other, outside of air travel. However speed and comfort vary wildly. Your rail experience will depend on where you're travelling, how much you pay, what time of day you board, and other factors. There are eight or nine different classes available on the Indian Rail system and not every class will be available on every train. Trains book out far in advance, especially on popular routes and around Indian National Holiday and major celebration. My advice is take an AC class( means there will be air conditioning and the corresponding number refers to the number of berths) there are three and all of them are fine. Unfortunately the state is not all connected, just the main city.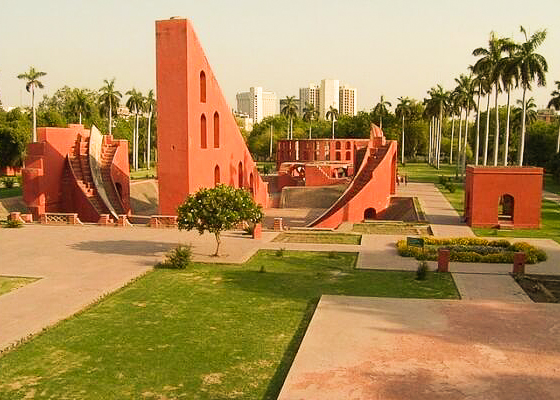 Bus
Buses are, by far, the most common mode of transport in Rajasthan. In fact, they account for around 90% of all public transport. Like the trains, they are very affordable and reasonably efficient. Anyway, catching a bus in the major cities is much easier than getting a train as they are generally easier to book last minute and in general. However many local services continue to be cramped and noisy. Often, there are no toilets. For a long distance bus or night bus this is my last choice, so try to catch train or a flight. Anyway some connections like Jodhpur to Jaisalmer are fine.
Travel Insurance when Photograph in Rajasthan
Getting a really god insurance. Like any destination, traveling with proper travel insurance is a must. Take care of yourself in the India.
Healthy issues
Prophylaxis or vaccination for India is not mandatory. However, it is recommended to contact the external health of the autonomous community.
Documentation
You must apply for an Indian tourist visa embassy or consulate (contact us for more information and help) via online (Price approx. € 65). Passport with a minimum validity of six months and at least two blank pages.
Respect the locals
When you are Photographing in Rajasthan remember to respect their culture, religion and law. The locals are really friendly but they are really strictly about certain issues, like drugs and religion. So when you photographing in Rajasthan stay away from problem and take information about it. Usually the most strictly places are the temple and the sacred site, where there is a dress code. For having more information on responsible travel photography check my other post.
What eat when photograph Rajasthan
Photograph Rajasthan will remain incomplete without tasting its ethnic food recipes. Indeed the Rajasthan's cuisine is rich and diverse alike its culture and tradition. So any photographers will be delighted to explore the gastronomic delights in this desert state. It is home to dominant flavors as the climate here is arid which allows for the production of famous Indian spices used in the various iconic dishes made here.The culinary style of the region to a great extent shaped up according to the bellicose lifestyle of the natives. Unavailability of a variety of fresh vegetables, fruits and other ingredients and scarcity of water due to the arid nature of the region has profound effect on the cooking style of the locals, particularly those living in the desert pockets.
Some typical dishes and Sweets are:
Bail-Gatte
Balusahi
Besan-Chakki
Chaavadi
Churma
Dal-Bati
Dhungari Hui Chaach
Ghevar
Laapasi
Nukhti
Panchkoota
Raabdi
You can see more images from India at this page.
My Photography Workshop in Europe and Asia