I find that photography Delhi is really interesting and intensive with some unique vibe. The capital is exhausted and chaotic but also rich of history and culture. It is particularly dotted with spellbinding mosques, forts, and monuments left over from the Mughal rulers.
Before arrive
Before arrive to photography Delhi get sure to be prepare to affront this huge city. The capital is big and chaotic and not easy to dealing with, especially if you are first timer. So find what you want really shooting at is fundamental. Usually my first step is to look a map of the town and how many itinerary choice i have to make. What kind of subject i want to shooting, what story I want to tell. So to be prepare i start to read about history, culture and contemporary issues. Also I will take some information about rules and social behavior. Then i will search for works made by greater photographers. Indeed from them you will be learning a lot of things. Take notes and made a checklist. Finally, be sure you have the right traveling photography equipment.
Location
The capital divided into two parts, the crumbling old city of Old Delhi, and the orderly and well planned New Delhi. Each area to Photography Delhi as interesting subjects to capture from market to temple, monuments and interesting people etc. You will many subject to shoot, don't worry.
Streets lovers
This city is full of bazars and markets and getting up really early is a great idea. You photography Delhi with a different atmosphere early, active but not so overcrowded. If I want catch some scene from street usually I go to the Main Street of old town, Chandi Chowk. It is one of the oldest market in the country. Indeed is chaotic, crumbling and congested, but completely captivating as well. Here cars, cycle rickshaws, hand-pulled carts, pedestrians, and animals all compete for space. It has been around for centuries and you can feel it while exploring through the chaos. The crowds make avoiding messy photos difficult, but you can find ways and spots around it if you try. Indeed here you will taste an authentic big city Indian atmosphere and a lace to get completely lost.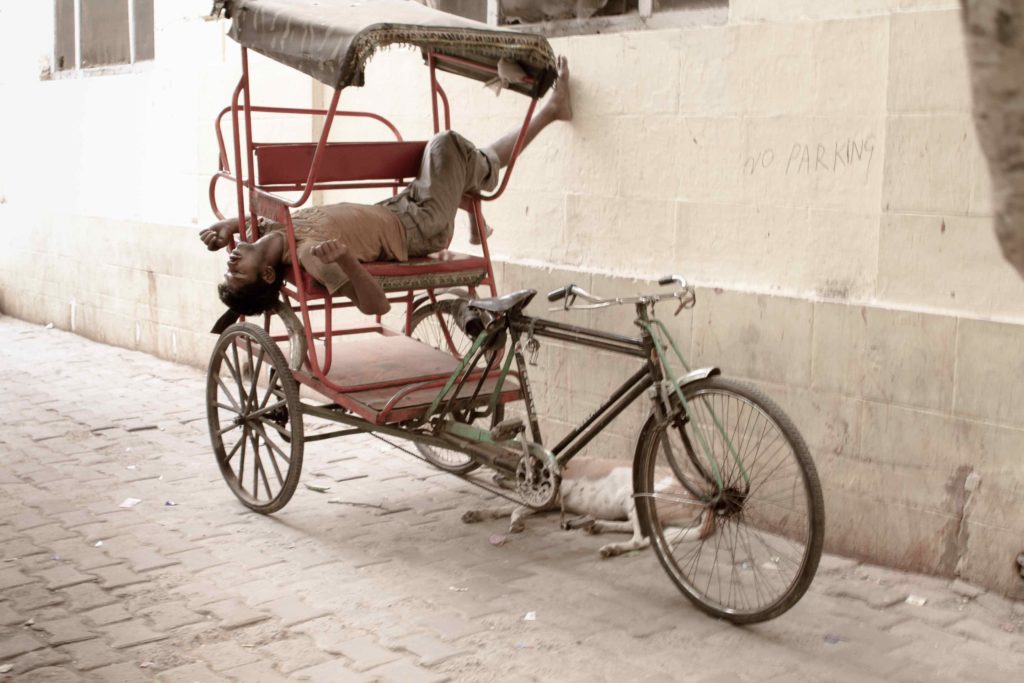 On the west side of the train tracks from Chandni Chowk, you'll find a bazar that rivals it for chaos. Sadar Bazaar is the largest wholesale market of household items in Delhi. The streets pack with crowds of locals just like you'd picture in India. For me, I might even prefer it to Chandni Chowk, although that's all to personal taste. I find the backgrounds and light to be a little better here and easier to work with. And while both feel local and authentic, I don't see as many tourists around here. Chandni Chowk has more chaos to explore, but Sadar Bazar has its own interest that I find unique. It's open every day, except Sunday.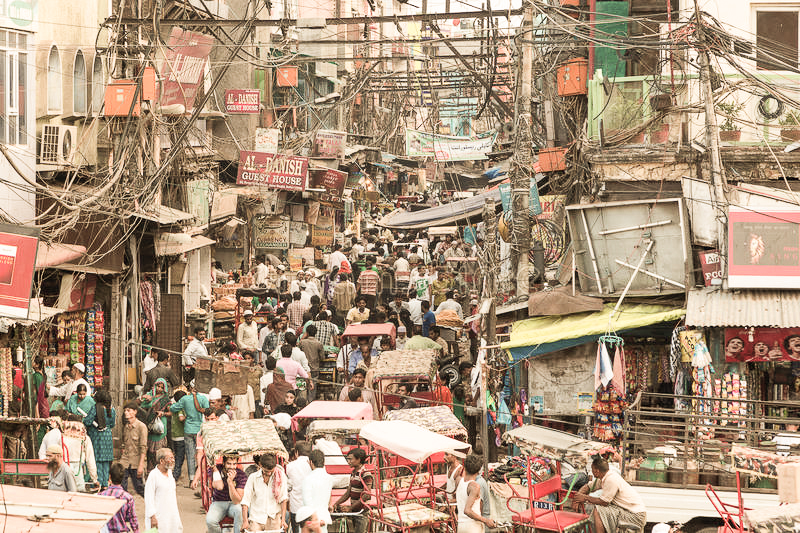 If have enough energy you can walk in the Main Baazar Street, a very backpacker friendly area. Here so it doesn't feel as local as the other bazaars, but it still has its own busy feeling and a mixture of India. So you can still find almost anything you want exploring its streets of shops and restaurants. Every day is crowdly and busy and can provid you some interest scene. Near you shooting also the chaotic New Delhi Train station, full of activity and interest.
Monuments and Temples
Where Start
My favorite monument when i photography Delhi is the Humayun's Tomb, that was the inspiration for the Taj Mahal's creation. It was built in 1570 to be the tomb of the second Mughal emperor, Humayun. It was the first of this type of Mughal architecture to be built in India and that was the inspiration for the Taj Mahal's creation. The monument is part of greater complex that's set among beautiful gardens and is pleasure to walk around and find some good perspective with your tripod. Also is renewed recently and the add a new museum. Near there is another smaller but beautiful tomb, the Safdarjung's. The complex has also gardens around and some palms where relaxing and take your time when shooting. I suggest visit after the Humayun's if you have time.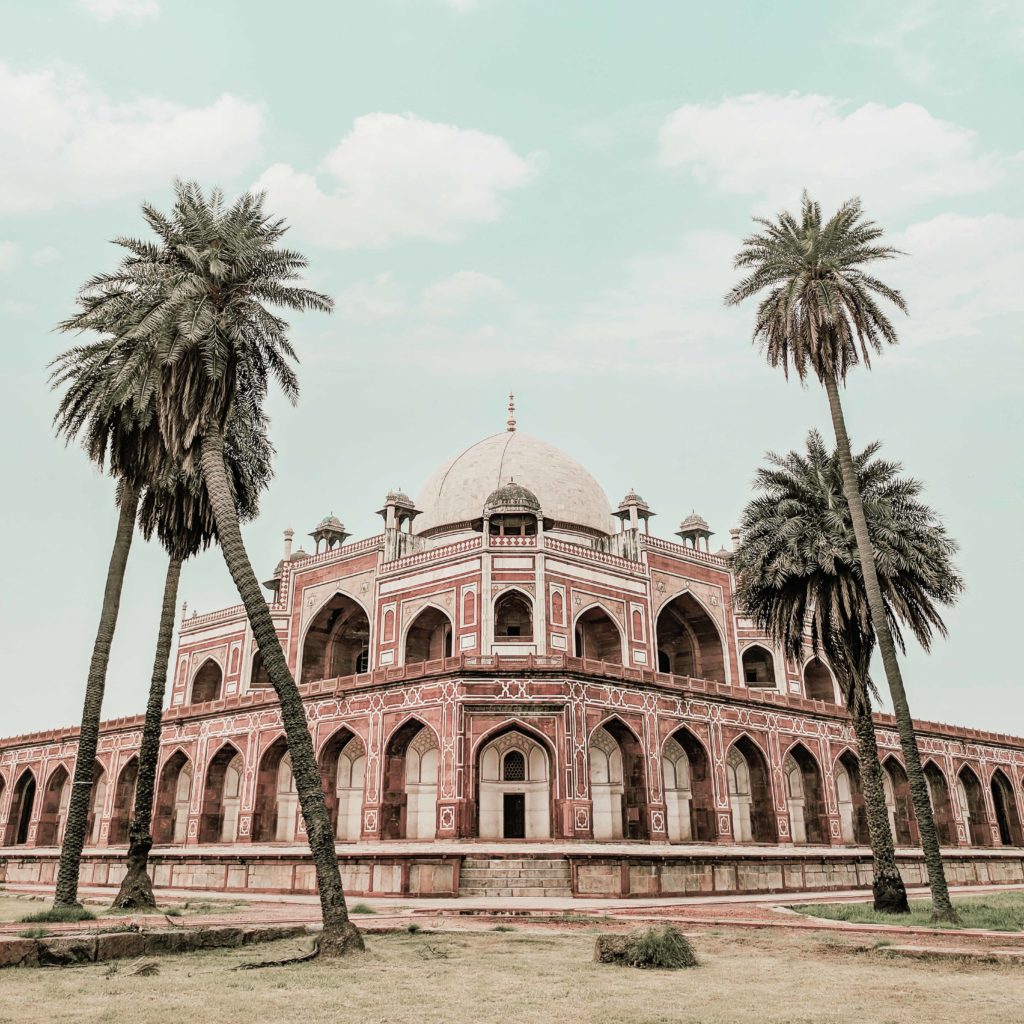 Other Monuments and Temples
With additional time get to the old part of town to photography Delhi most famous monuments. Like the Red Fort, that stands not only as a powerful reminder of the Mughal era but also a symbol of India's struggle for freedom. The monument is well conserved but unfortunately insight doesn't have too much to photograph. Just few minutes walking and you will be at Jama Masjid. Indeed it is another marvelous treasure of the Old City, and also is one of the largest mosque in India. Can you climb to the top of its southern tower for panoramic capture across the rooftops of Delhi.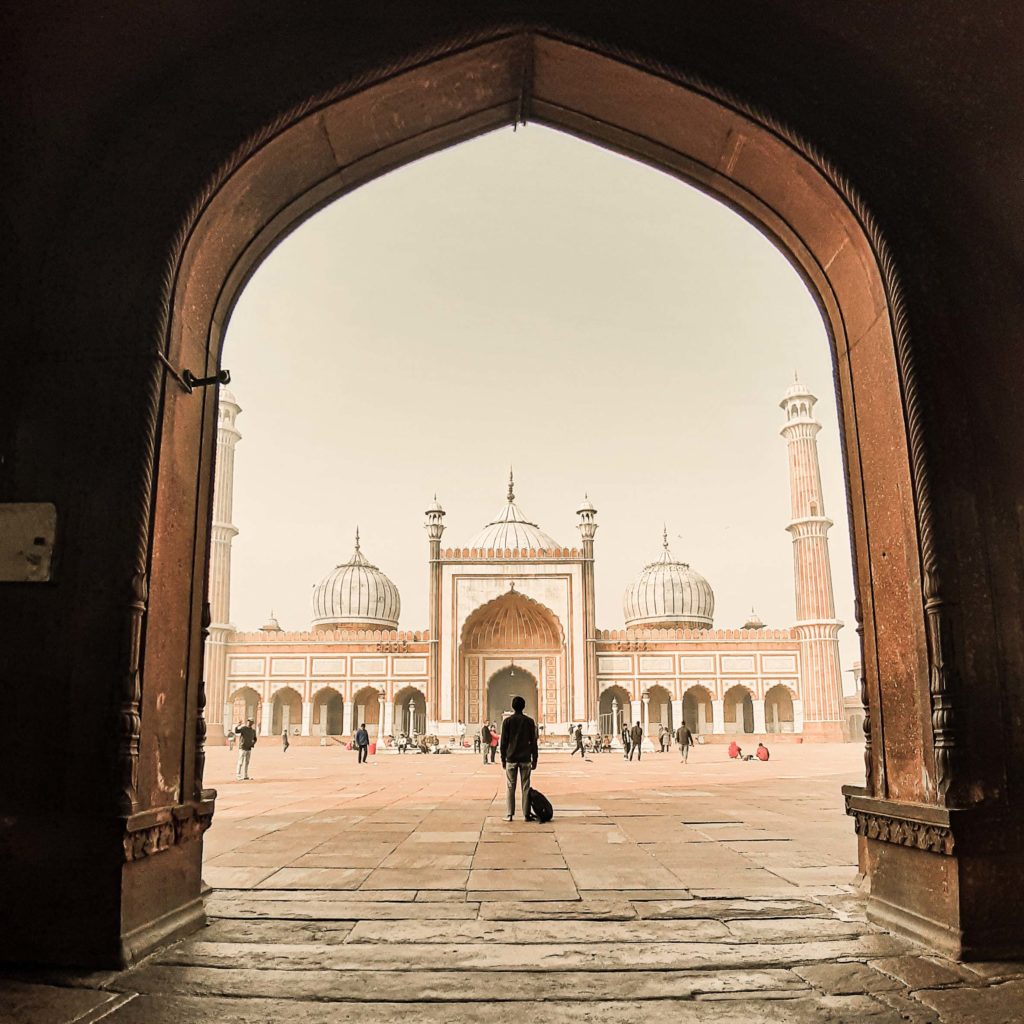 Once you are done with old city get Mehrauli insouth Delhi to Qutab Minar. It is the tallest brick minaret in the world, is an incredible example of early Indo–Islamic architecture. You can capture the details of tower that is covered with intricate carvings and verses from the holy Quran.
Far from centre but easily reach with Metro, The Bahai Temple is shaped like a lotus flower. It's commonly called the Lotus Temple and is particularly photogenic at night, when it's attractively lit up. Made out of concrete covered in white marble, the temple belongs to the Bahai Faith, which proclaims the unity of all people and religions.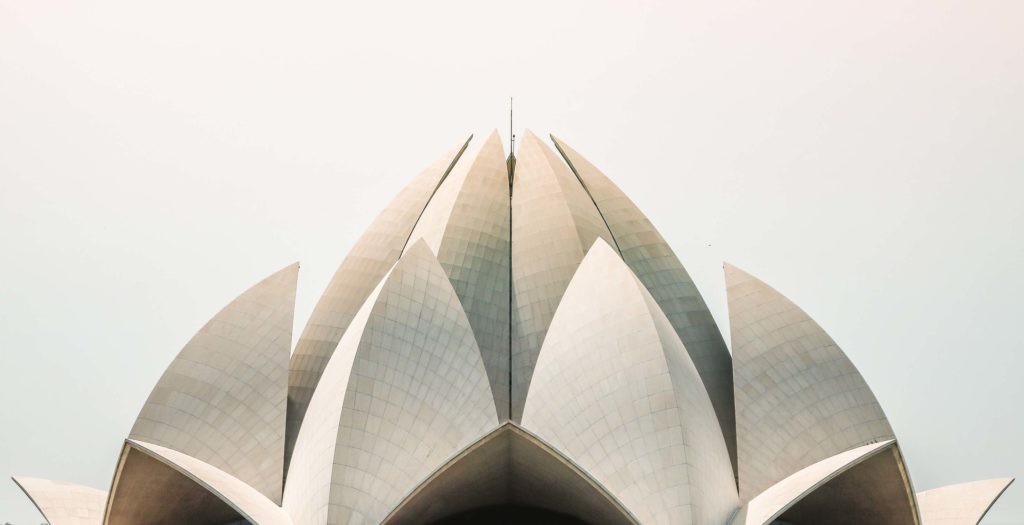 The surrealist monument
Not too many tourist visit this monument but is maybe the most unusual and different location to photography in Delhi. I talk about the Jantar Mantar, an astronomical laboratory built by the Rajput king of Jaipur, Maharaja Jai Singh II, stands as a proud testimony to ancient India's scientific advancements. The observatory in Delhi consists of 13 astronomical instruments and their size are large with amazing shapes and forms. There is another five in India like this and the best one is in Jaipur, Rajasthan. Is well worth a visit to capture this lines and perspective.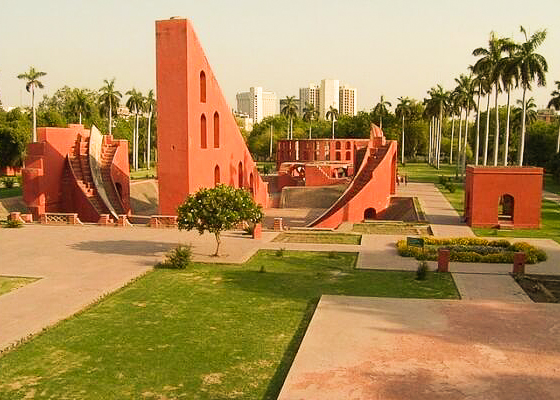 How get around
There are countless ways to explore Delhi , but the walkability is usually the big concern. India's capital is very large and spread out. Something that doesn't look that far on a map can easily end up taking an hour in transportation. Meanwhile walking on foot everywhere can leave you on empty streets for even longer. Delhi has also a heavy traffic and can be a mess in rush hour. Better know a little bit how get around in the city.
Hire a private car
The most comfortable method to photography Delhi is take a private air conditioner car with an experienced driver. However this is one of the most expensive forms of travel in the city. Anyway is not really expensive compared to western country and also is safe. You can rent from many travel agencies in the city or can just ask for it in your hotel .
The Auto Rickshaw
More fast then a private car or taxi. Is essentially a three-wheeled taxi cab, with open sides. They are a fantastic way to make short trips, as these little motors can weave in and out of traffic. Also are cheap and often you have to bargain.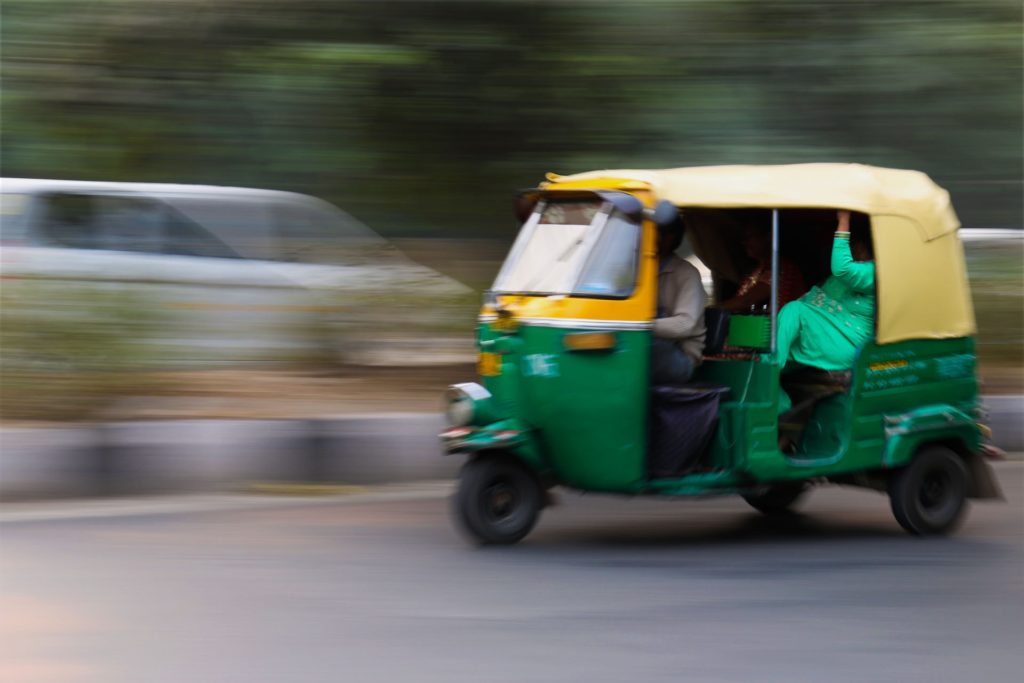 Subway and bus
Delhi has an excellent air conditioned renovate train system call Metro. Is sprain all around the city and arrive until the Indira Gandhi Airport. Is not really cheap for a india, around 60 rupees, but is really fast and can you skip in rush hour traffic. The best solution to go in old Delhi. Although if you are in strictly budget take a bus.. The city bus network is substantial, and you can pretty much get anywhere you want to go. However, the quality of your trip will vary, depending on the type of bus you take and the amount of traffic on the roads.
Advice to first timer
Avoid the Delhi belly
Be careful when come to eat and drink in Delhi where there are issues around clean water and food hygiene. However don't panic. Take these few simple precautions and your trip to Delhi will be full of amazing food and memories.
Eat at busy spots full of locals, because the food is usually delicious and fresh.
Give your gut a pro-biotic boost
Heat kills germs, so choose hot food.
Embrace street food, but ask your leader for recommendations.
Drink without ice
Beware of buffets, the dishes can be left unrefrigerated for too long.
Avoid salad as it's usually rinsed in tap water.
Don't eat cut fruit. Instead, purchase fruit with a peel (like oranges or bananas and peel it yourself.
Avoid Western food. It may not be as good quality as local food.
Try not to overeat, particularly at the start. Your body needs time to adjust!
Stay safe
Is the most unsafe city in India for women, they say. So take some precautions, such as not going out alone after dark, especially if you're a female. Is common in India for women to receive unwanted attention from men in tourist areas. So women will feel most comfortable wearing loose clothing that covers their shoulders and legs. A shawl that covers the breasts is also beneficial. In some tourist area happen tourist scam, are widespread in Delhi, particularly overcharging and commission rackets. Read up beforehand to be aware and prepare yourself.
Best Time to Visit:
The best time to visit Delhi is during the cooler, dry months from October to March. January and February can be cold. However, it's important to be aware that severe air pollution is a concerning factor at this time. Is too hot in the summer, with temperatures consistently exceeding 40 degrees until coming the monsoon to calm down. It arrive between June and October, but when it isn't raining the humidity is uncomfortably high and the temperature still reaches 35 degrees.